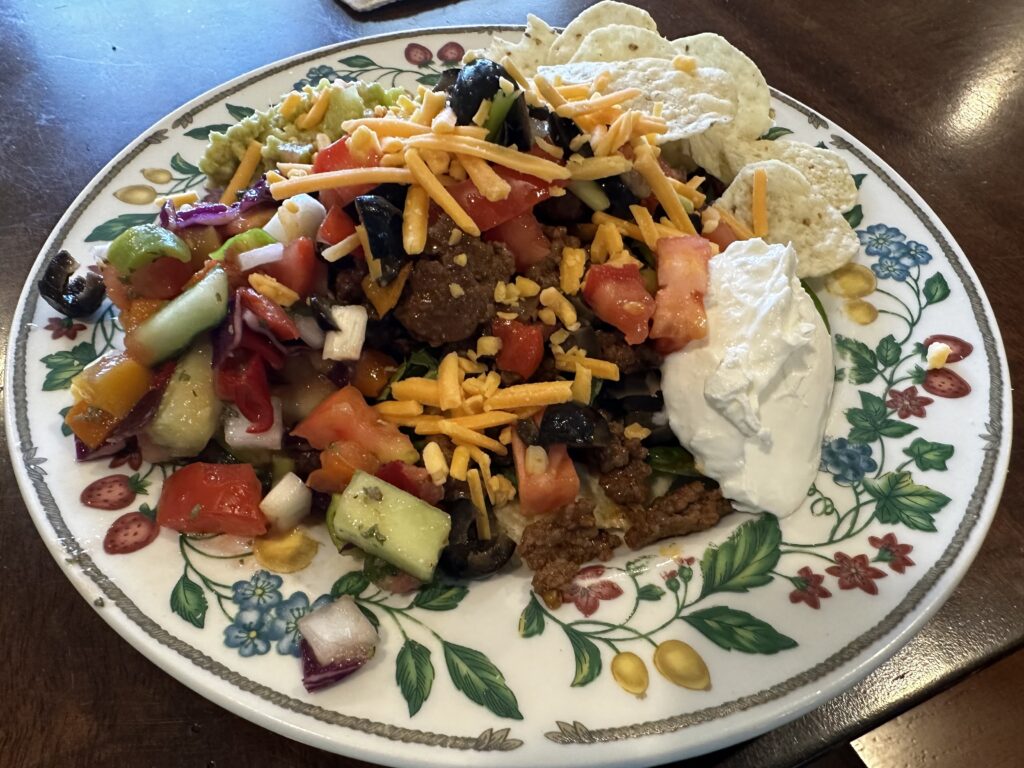 When I do a taco salad I like to focus on freshness both in the salad and the toppings.
This salad I garnished with freshly made guacamole and salsa made from fresh garden ingredients. Tasty!
Here's what you'll need.
Salad
1 lb lean hambuger
1 chopped green onion
3 mini multi colored peppers
1 chopped ripe tomato
Salt, pepper and taco seasoning to taste
Chopped lettuce
Crumbled tortilla chips
Raw chopped green onions, tomatoes, blacK olives
Shredded cheese
Fry hamburger, peppers, onions and chopped tomatoes together. Drain off excess fat. Rinse with water to insure less greasy mixture. Return to pan and add seasonings and heat thru. Set aside.
On a large salad plate crumble tortillas, top with lettuce , hamburger and vegetable toppings and cheese.
Garnish with additional chips, fresh salsa, fresh guacamole and sour cream.
Salsa
Chop together tomatoes, favorite peppers, white onion, cucumber, purple cabbage , cilantro and mango (fresh or frozen). Season to taste with fresh ground sea salt, course black pepper, lime juice and sriracha sauce.
Guacamole
In a mixing bowl mash one fresh avocado, add one chopped green onion and one cropped fresh tomato. Season to taste with lime juice and freshly ground sea salt and coarse black pepper.