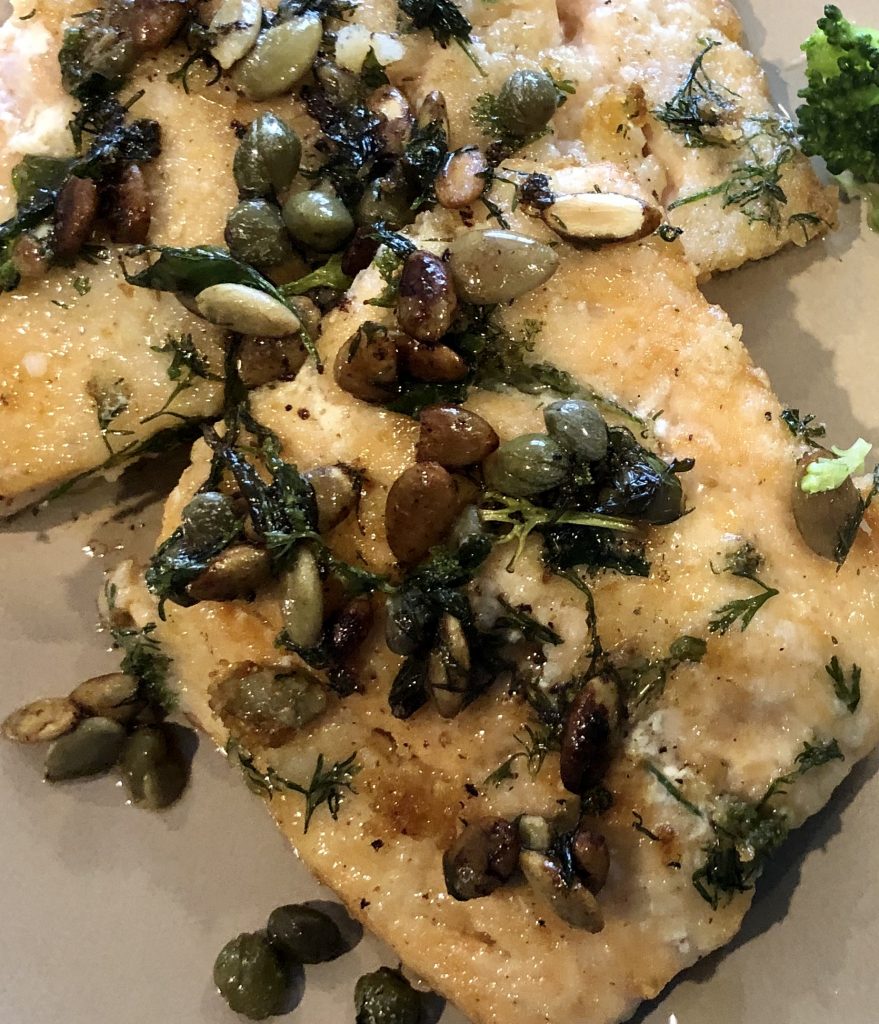 You want your dishes to be as tasty to the eye as they are to the pallet.
This Salmon looks great and tastes even better.
Here's how you do it.
I use about four ounce salmon filets. I usually do 4 filets when making the dish for two people.
You'll want to pat dry each filet.
Make a mixture of fresh herbs (basil, dill, marjoram) and a little flour. Before mixing with the flour, finely chop the herbs.
VERY LIGHTLY coat each filet with flour and herbs.
In a cast iron skillet heat on high 2-3 tablespoons olive oil.
When hot, place the filets in the pan and sear on both sides. This won't take long.
Reduce the heat to medium high and cook until golden brown ( turning so that both sides are golden)
This usually takes about 4-5 minutes on each side.
Cook on medium unto fish is Cooked through but not over done.
In a small sauce pan melt about a half cube of butter (real butter, not margarine). Add 1/2 teaspoon lemon juice, fresh dill and as many capers as you like.
Place portions of Salmon on plate and drizzle with lemon butter mixture.
What you'll need:
Salmon Filets
Fresh Herbs
Flour
Olive Oil
Real Butter
Lemon Juice
Fresh Dill
Capers
Cast Iron Skillet
Small Metal Spatula
Small Pie Tin
Fork
Mixing Spatula
Sharp Knife or Electric Chopper to Chop Herbs
Tip: I use the pie tin to mix the flour and herbs. It makes it easy to coat the fish.
Herbs are easy to grow inside or outside. It's great to have fresh herbs at your finger tips. You can also by living herbs in the organic food section.
One of my favorite choppers to use is actually portable non-electric and operated by pulling a chord. You can find them on Amazon.