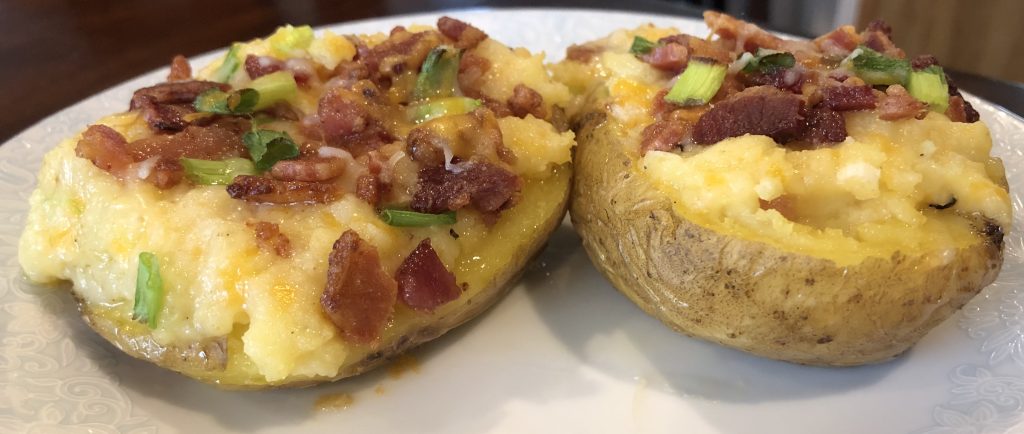 Nearly every cook has a method for making Twice Baked Potatoes. I think my recipe is good enough to share though.
First you'll bake 2 large russet or yellow potatoes. When potatoes are tender, cut them in half lengthwise and scoop insides into a bowl. Leave a portion of the potato around sides and bottom of the potatoes to form a vessel from the skins. Add 1 tablespoon real butter to cooked potatoes and mash slightly to melt the butter.
While potatoes are baking fry crisp 4 slices of thick sliced bacon, cool and then chop in the chopper.
Cut into tiny pieces the whites of two medium green onions. Separate from the white onion chop the green part of the onion and set aside for chives.
Measure 1/2 cup shredded cheddar cheese and set aside.
To the potatoes and butter stir in the chopped whites of the green onion, most of the bacon reserving some for toppings, shredded cheese, and 1/4 cup heavy cream. Salt and pepper to taste.
Spoon the potato mixture into the potato skin boats. On top of the potatoes, place a tiny thin slice of butter, sprinkle with shredded cheese, bacon crumbles and chives. Place in a preheated 350 degree oven for about 20-30 minutes or until tops are a little toasty.