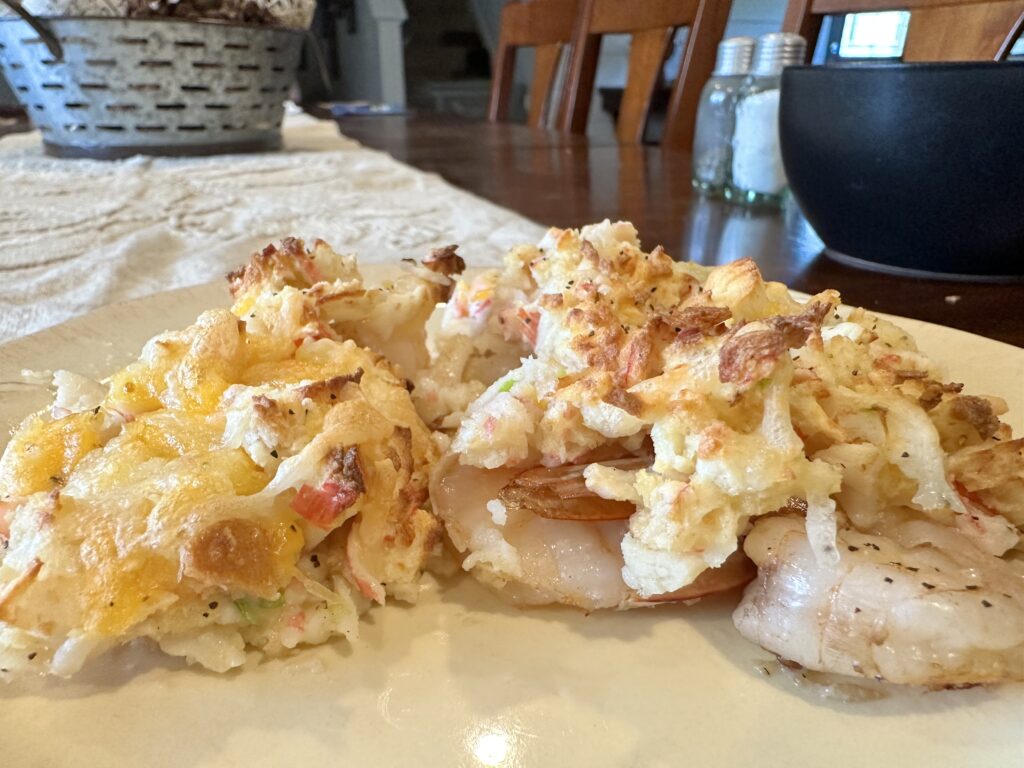 This is a simple way to get the flavors of crab stuffed shrimp.
Here's what you'll need.
15-20 medium shrimp
1 1/2 cup shredded crab or imitation crab
1 green onion chopped
1/2 cup bread crumbs
1 egg beaten
1/3 cup heavy cream
1 teaspoon lime juice
olive oil
spicy sea salt, coarse black pepper
shredded cheddar jack cheese
In a large mixing bowl combine crab, onion, bread crumbs, lime juice, egg and cream. Season to taste with spicy sea salt and coarse black pepper. Mix well and set aside.
Remove tails, veins and shells from shrimp. Pat dry with paper towel. Place in a bowl and drizzle with olive oil. Season with spicy sea salt. Toss to coat with oil.
Spray the basket of an air fryer with nonstick spray. Heat fryer on 390 degrees. Arrange shrimp in a single layer (touching) in air fryer basket. Spoon crab mixture evenly over shrimp.
Set timer for 18 minutes. After 15 minutes Sprinkle top of crab with desired amount of shredded cheese (sparingly). Cook for an additional 3 minutes until top starts to brown.
Using a small spatula gently remove servings from air fryer. Serve hot.