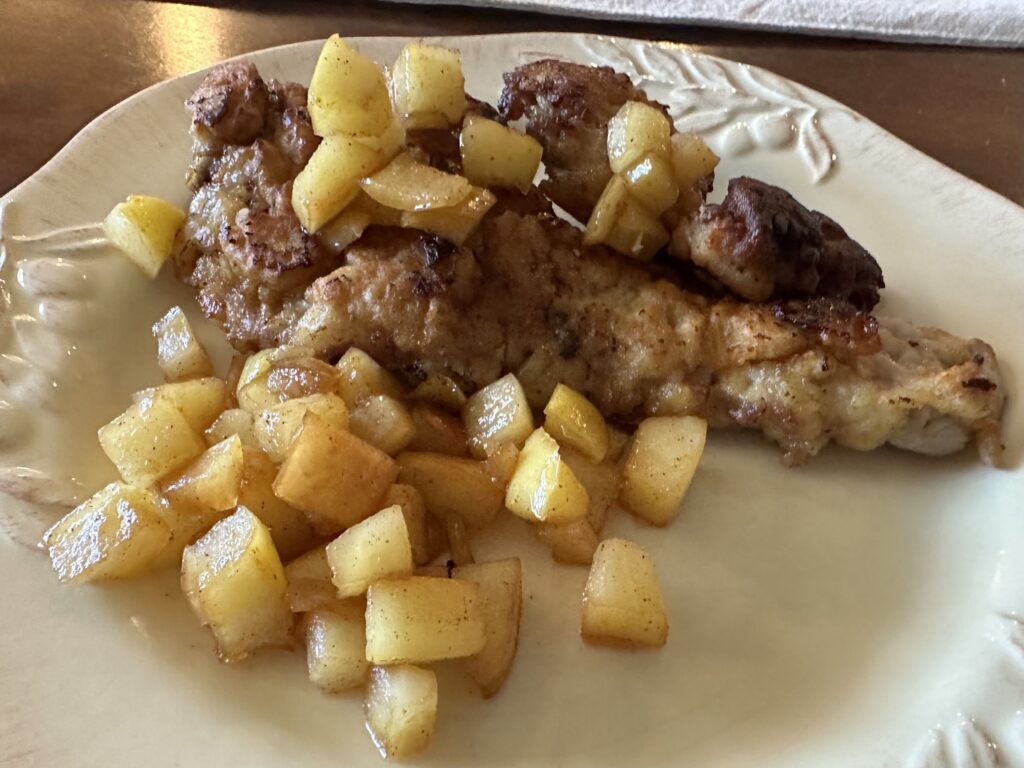 Pork schnitzel is a wonderful, flavorful way to prepare pork loin. Adding sautéed apple chunks as a side enhances the flavor.

Here's what you need.
4 medium boneless pork loins
Sea salt and coarse black pepper
1/2 cup reduced carb flour
1/2 cup plain bread crunbs
2 lightly whipped eggs
1 teaspoon sea-salt
water to thin batter
Olive oil dir frying.
Tenderize loins 3 to 4 times. Season with salt and pepper. Set aside.
In a large mixing bowl combine flour, bread crumbs and salt. Whip eggs and fold into flour. Gradually add enough water to thin batter.
Heat oil medium high heat. Dip pork loins into batter and fry in oil until brown and crispy on both sides. Garnish with sautéed apples. Serve hot.
Sautéed Apples
1 crispy delicious apple diced
1 tablespoon butter
sprinkle of cinnamon
1 tablespoon Splenda brown sugar
2 tablespoons water
1 teaspoon salt
In sauté pan melt butter, add apple cubes, lightly sprinkle with cinnamon and fold in Splenda. Add water, cover and steam until apple is tender but not mushy. Stir in salt.