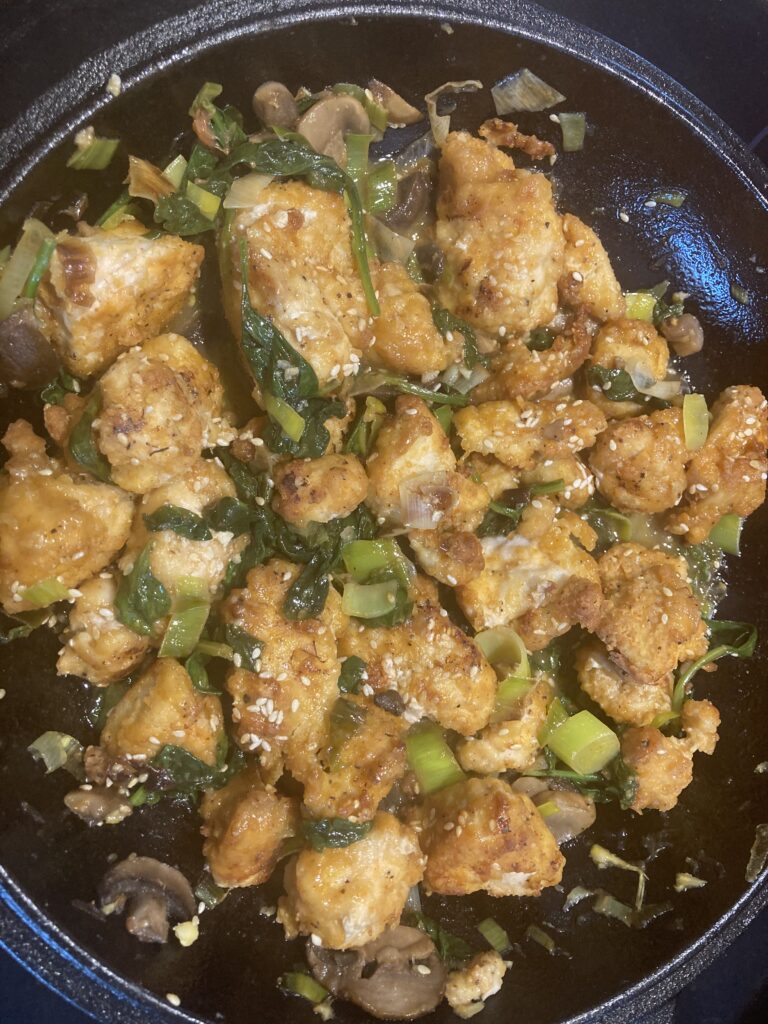 This chicken dish is a variation on classic orange chicken. It has a delicious combination of flavors. Enjoy!
Heres what you'll need.

2 large boneless, skinless chicken breasts cut into 1 inch cubes.
1/2 cup reduced carb flour ( I use Flourish brand)
1/2 teaspoon each fresh ground sea salt, hot paprika , garlic salt
Sesame Oil
Sesame seeds
2 tablespoons real butter
1 Leek thin sliced
6-8 Crimini mushrooms thinly sliced
1 cup fresh spinach
Juice of 4 blood oranges
1/4 cup peanut sauce
Peanuts (optional)

Chicken:
Place flour and spices and sesame seeds in a ziplock bag. Using a paper towel, pat dry the chicken. Coat chicken with oil and drop into flour mixture. Shake bag to coat chickena evenly.
Spray airfryer basket with sesame oil and preheat airfryer to 390 degrees.
Arrange chicken in basket. Spray with sesame oil and cook for 7 minutes, turn over and cook for 7-8 more minutes.
Sauce:
In a deep sauté pan or cast-iron skillet melt butter. Add vegetables and sauté until tender. Add juice and peanut sauce. Heat through and add chicken and stir to coat chicken. Add peanuts or more sesame seeds. Serve over rice or noodles.
Makes 2 servings.