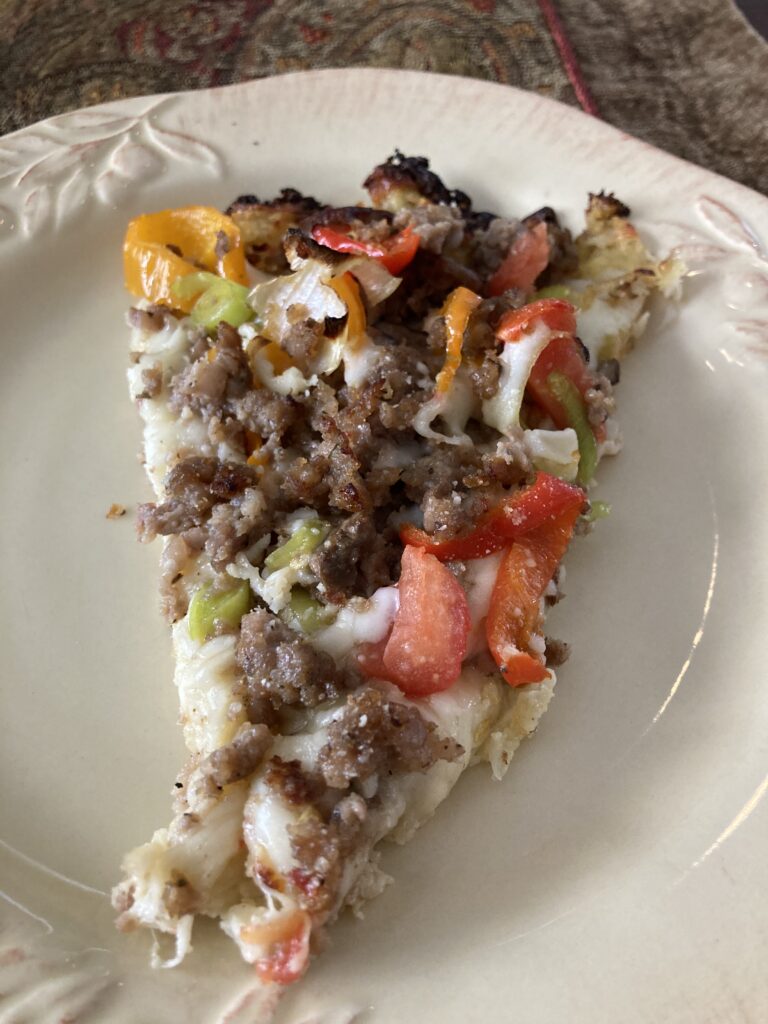 Even the strongest willed people need an occasional indulgence. This cauliflower crust sausage pizza meets that need.
Here is what you need:
CRUST:
1 small head of cauliflower
1 egg
3/4 cup shredded mozzarella
1/4 cup grated parmesan
2 tablespoons reduced carb flour
1 teaspoon pizza seasoning
olive oil spray
Steam cauliflower florets until tender. Drain and cool. Using a food processor rice the cauliflower. Place riced cauliflower in cheese cloth and squeeze out liquid. The dryer the better. Mix riced cauliflower with remaining ingredients except olive oil and form into a ball. Spray a slotted pizza pan with non-stick spray. Place the dough in center of pan and use your fingers to gently spread dough to edges of pan. Spray the top with olive oil.
Bake in a 425 degree pre-heated oven for 12-15 minutes until crispy.
TOPPING
1/4 package Jimmy Dean original breakfast sausage
4 sliced crimini mushrooms
3 sliced colored mini bell peppers
2 tablespoons thinly sliced leeks
1/2 cup diced Roma tomato
1 1/2-2 cups shredded mozzarella
Grated parmesan
Crumble sausage into a deep sauté pan and brown. Add all vegetables except tomatoes and sauté until tender. Drain on a paper towel.
Spray baked crust with olive oil. Top with mozzarela and then cooked meat and vegetable mIxture. Add tomatoes and sprinkle with parmesan. Return to oven for an additional 10-12 minutes until cheese is melted.
Note:
Use any toppings you wish. I avoided using pizza sauce because of the added sugar and the risk of creating a soggy crust.