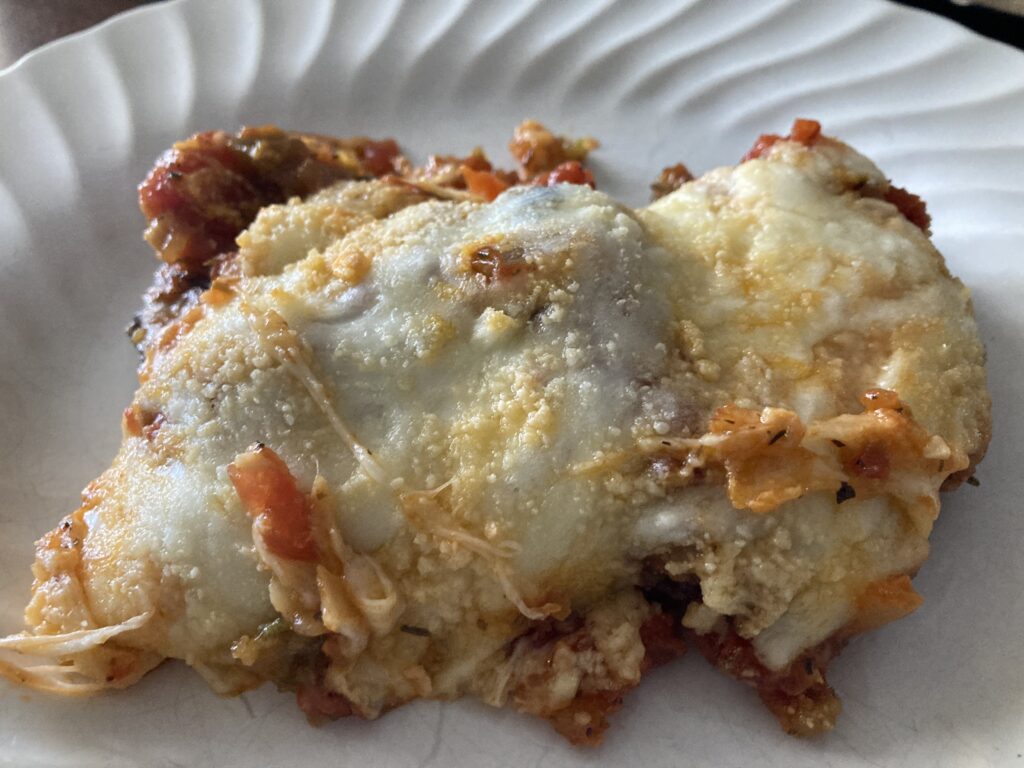 Taste Tester Tom deems this a Winner! Winner! It has all of the rich goodness and flavor without the guilt of high carbs and sugar. The homemade marinara is the bonus. So Good.
Here's what you'll need.
Sauce
2 14.8 ounce cans crushed tomatoes
2 tablespoons olive oil
2 tablespoons crushed garlic
1/2 cup finely chopped white onion
2 tablespoons Herbes de Provence Seasoning (or your favorite Italian seasoning)
1/4 teaspoon fresh ground pepper
1 teaspoon fresh ground sea salt
2 tablespoons chopped fresh basil
Heat olive oil in a sauce pan on medium heat. Add onions and garlic and sauté until tender. Add remaining ingredients and simmer on low to thicken.
Slice one small unpeeled eggplant into 1/8 -1/4 inch slices. Place eggplant slices in a mixing bowl and drizzle with olive oil. Stir to coat slices. Sprinkle with jarred parmesan cheese stirring to coat slices. Drizzle olive oil in a shallow baking dish. Arrange eggplant dlices in bottom of dish. Bake uncovered in a pre-heated 350 degree oven for 10 minutes.
Turn slices over and return to oven for an additional 10 minutes. remove from oven and pour marinara sauce over the eggplant. Spread sauce to cover entire dish. Top with 1 1/2 cups shredded mozzarella cheese. Liberally sprinkle jarred Parmesan cheese over top. Return uncovered to oven for 20 minutes until cheese is melted and starting brown a bit on top.
Remove from oven an let rest for 5 minutes before serving.

Serves 4