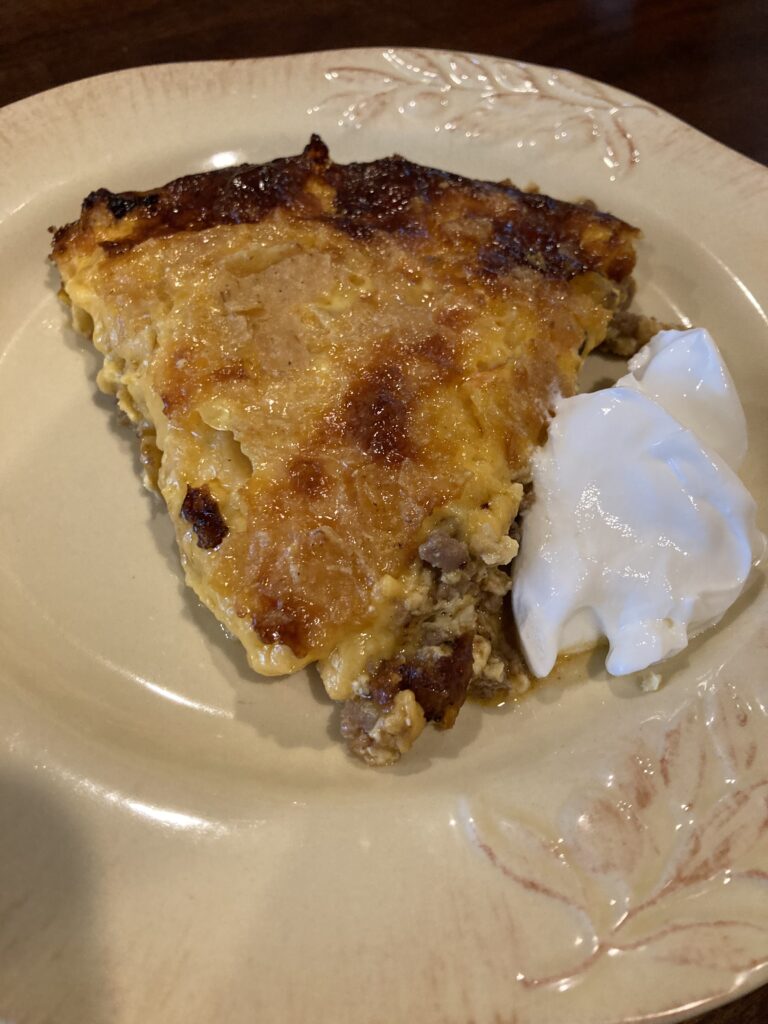 Oh My!! Taste Tester Tom and I have been eating low carb/low sugar for a while now. We have enjoyed dishes like this hamburger pie and we are still dropping the pounds.

Here's what you'll need.
1 lb lean hamburger
1 jalapeño pepper cleaned snd chopped
1/2 cup chopped white onion
4 mini red and yellow peppers chopped
1 ripe tomato chopped
taco seasoning to taste
1/4 teaspoon spicy sea salt
3 cups shredded Mexican blend cheese
2 tablespoons low carb flour (Flourish brand)
1/2 cup heavy whipping cream
2 eggs whipped
In a large frying pan brown hamburger, peppers and onions. Drain off excess fat.
Stir in chopped tomato. ( I used a chopper).
Add seasoning. Spray a deep dish pie pan with non-stick spray. Spoon in hamburger and spread evenly.
Whip together eggs and cream. In a large bowl mix flour and cheese together and stir in egg/cream mixture. Pour over hamburger mixture. Bake in a 375 degree pre-heated oven for 35-40 minutes. Let cool for 5-10 minutes before slicing. Serve garnished with sour cream on the side.
TIPS:
You can find Flourish flour on Amazon.
Using a ripe tomato instead of tomato sauce saves sugar but still adds a great tomato flavor to the pie.