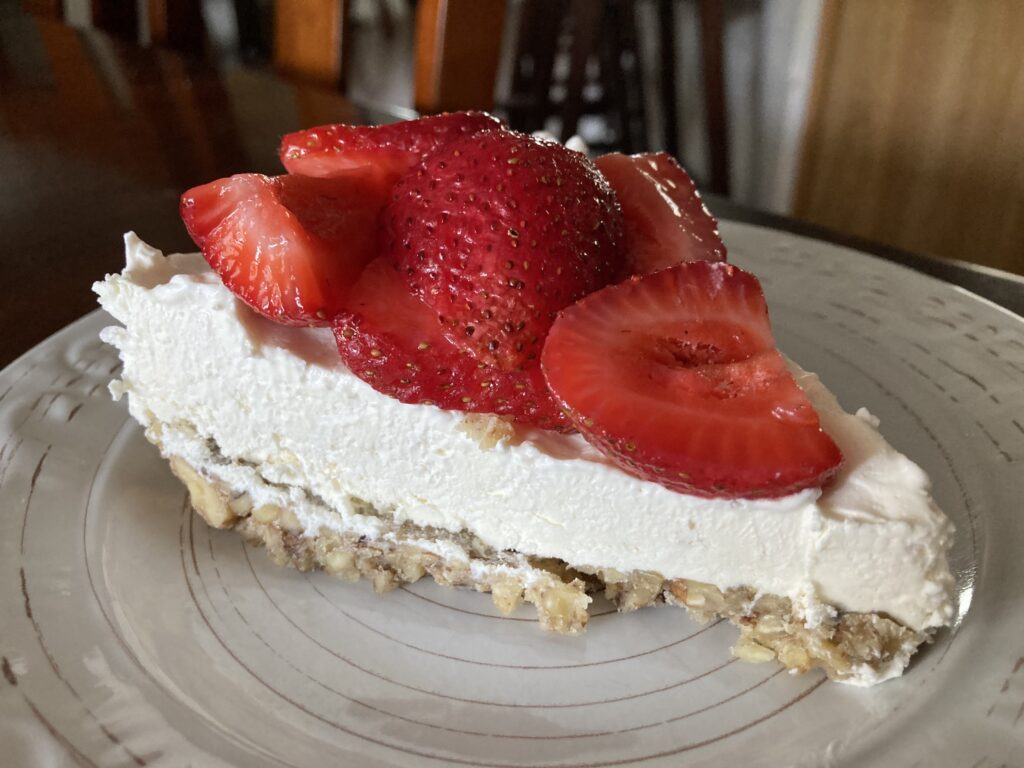 For the crust
For the filling
1 cup cream cheese softened
1 cup sugar free sweetened condensed milk (recipe below)
1/2 cup lemon juice
3 table spoons granulated Splenda
1 cup heavy cream
Thinly sliced fresh strawberries sweetened to taste with Splenda
Homemade Sugar Free Sweetened Condensed Milk
2 1/2 cups heavy cream
1/4 cup butter
3/4 cup granulated Splenda
With just a few substitutions you can make a decadent and delicious pie that is very low carb. First make sugar free sweetened condensed milk. In a heavy sauce pan whisk together all ingredients. place on medium high heat and continue to whisk until it comes to a boil. Reduce to heat and let simmer for 1/2 hour. Transfer to heat resistant bowl and chill. it will thicken more in refrigerator.

To make the crust combine walnuts, sweetener and melted butter. Spray a 9" springform pan with non stick spray. Line with parchment paper. Press nut mixture into pan to form bottom crust. Set in the freezer while you make the filling.
In a stand mixer, beat together all filling ingredients except cream . Beat on high speed until smooth. Add cream and continue to beat until thick and fluffy.Spoon the filling onto crust and spread evenly. Chill completely.
To serve, cut into 8 slices and garnish with sweetened strawberry slices. Each slice will contain 5 grams of carbs, 1 gram of fiber and 0 sugar grams.
TIP:
Prepare condensed milk and refrigerate over night before using.