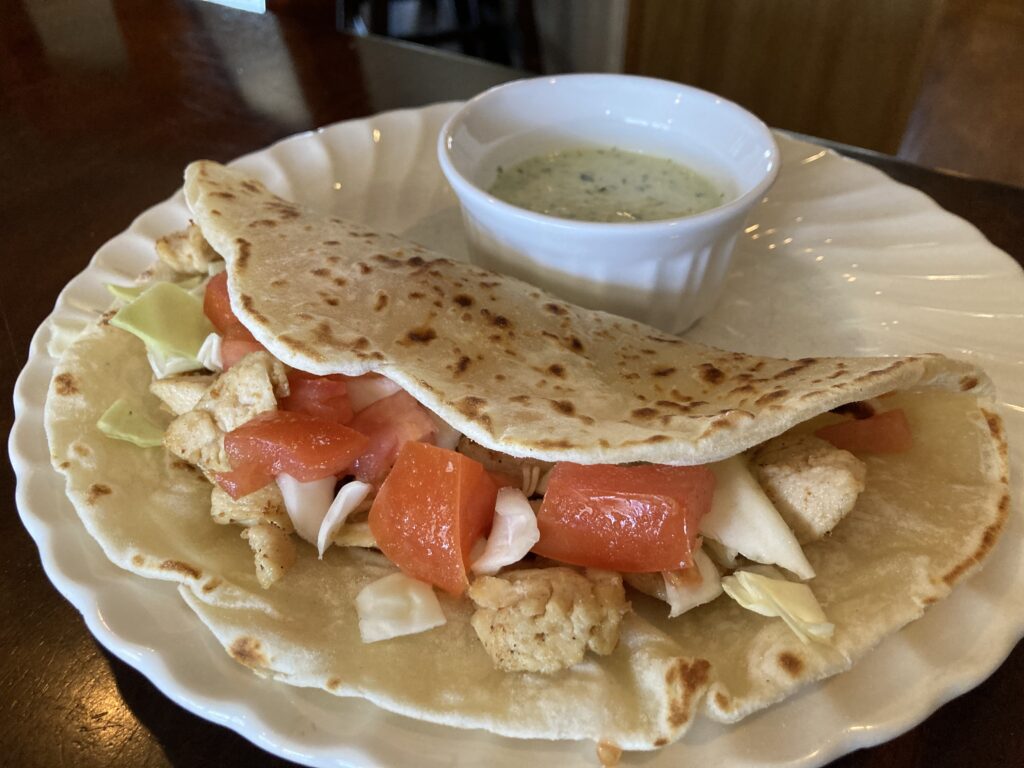 Tzatziki is a cucumber sauce that has Turkish, Middle Eastern origins. It is a great flavor enhancement with many dishes. This sandwich is just one if them,
Tzatziki
1 medium cucumber grated
1 cup Greek yogurt
Finely grated lemon zest from one lemon
2 tablespoons lemon juice
1 tablespoon chopped garlic
1 teaspoon dried dill
2 tablespoons olive oil
fresh ground sea salt to taste
The easiest way to make tzatziki is to use a food processor.
Using the top blade with larger holes feed the cucumber through the blades. Remove top blade leaving bottom blade in place. Add remaining ingredients and replace lid to process. Refrigerate while finishing the sandwich.
Chicken
Cut two large boneless skinless chicken breast in small bitesize pieces.
In a cast iron skillet melt 3-4 tablespoons of butter. Add chicken and cook on medium heat until browned and cooked through. Season with sea salt and coarse black pepper. Set aside.
Flatbread
Place 2 scant cups of flour in a stand mixer. Heat in microwave 3/4 cups milk and 3 1/2 tablespoons butter. Heat just until butter starts to melt. Add to flour and mix using bread hook attachment for 10 minutes.
Shape dough into a ball, cover in plastic wrap and let rest for 30 minutes. Divide dough into 4 equal pieces. on a floured surface roll each portion into about a 6-7 inch circle. Spray a shallow sauté pan or crepe pan with non-stick spray and heat on medium heat. Spray each flat bread with olive oil and place in pan oil side down. Spray top side once in the pan. Brown bread on each side. Transfer to paper towel and fold in half.
Assemble
Spread sauce on inside of bread. Add chicken and top with diced tomatoes and finely chopped green cabbage. Refold sandwich.
Serve with additional sauce on the side.
Makes 4 sandwiches.