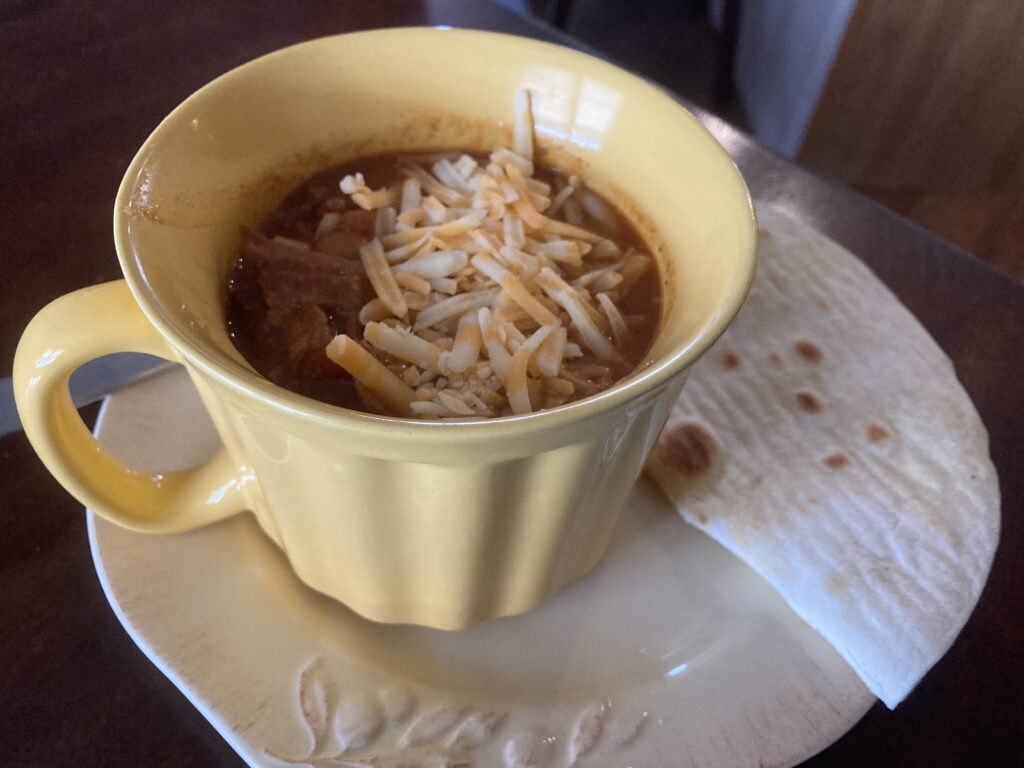 This white bean chili has a great flavor. It's not as spicy as some chili.
Hears what you'll need.
1 lb lean hamburger
4 strips crisp cooked thick bacon
1/2 cup chopped white onion plus more for topping
1-2 fresh jalapeño cleaned and chopped
1 tablespoon chopped garlic
1 package dried chili seasoning mix
14 oz can Mexican style stewed tomatoes plus equal amount of water.
4 oz can tomato sauce
Fresh ground sea salt to taste
Canned or fresh cooked white beans
Shredded Mexican blend cheese
In a heavy deep kettle or Dutch oven, brown beef, onions and jalapeños. drain off excess fat. Cut bacon into bite size pieces and add to meat mixture.
Stir in seasoning mix and stir to coat meat.
Add tomatoes, sauce and water. Stir in garlic and fresh ground sea salt.
Add desired amount of beans and simmer until hot snd thickened.
Serve topped with shredded Mexican cheese and chopped white onion.
TIP:
Make sure to scrape out all of the seeds and membrane from inside the jalapeño.
I always pre-cook bacon and keep it in small packages in the freezer.
When draining off excess fat for chili i put browned meat into a colander and run warm water over it. This method helps to avoid greasy chili.