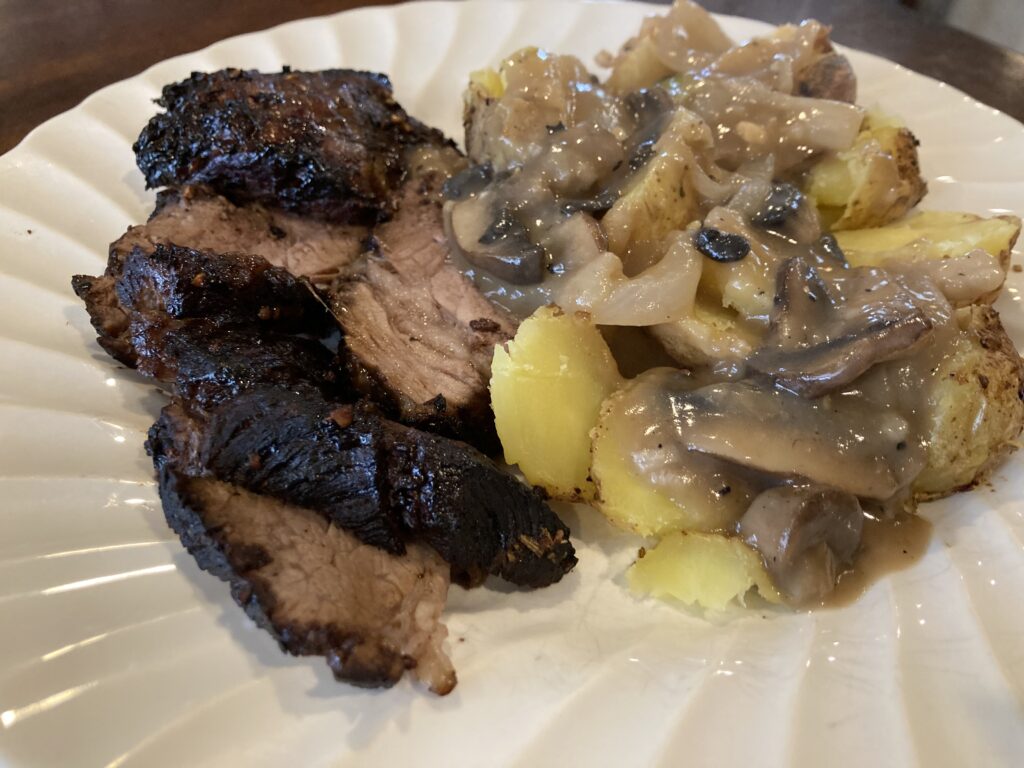 I've never before prepared a beef arm roast. I wasn't really familiar with the cut so before I tried it i did some research.
The cut is very meaty with a rich beef flavor.
To tenderize the meat I put it on a large plate and poked holes in the roast with a large fork.
I drenched the roast with balsamic vinegar, covered it and let it rest at room temperature for 2 hours.
After marinating in vinegar roll the roast on the plate to coat in vinegar.
Using a sharp chefs knife, make crisscross cuts on both sides of roast. Coat the roast with olive oil and coarse black pepper.
Heat a shallow Dutch oven on medium high heat and sear the roast on both sides to make a crusty outside and seal in juices. This takes very few minutes. Just sear it, dont cook it.
Pre-heat an airfryer at 390 degrees for 5 minutes. Place the roast in the air fryer basket, close the lid and process st 390 degrees for 45 minutes. Let rest for 5 minutes before slicing.
Serve topped with balsamic mushroom and onion gravy.
Gravy:
In the Dutch oven where meat was seared, melt 2 tablespoons butter. Add desired amount of sliced white onions and crimini mushrooms and sauté until tender. Stir in 3 tablespoons flour and stir to coat vegetables. Add 2 cups of beef broth. Heat to thicken. Season to taste with balsamic vinegar, spicy sea salt and coarse black pepper.
TIp:
I used a package of frozen pre-roasted potatoes as a side. These potatoes can be added to the air fryer on top of the meat for the last 15 minutes of cooking time.
I tried creamy horseradish with the roast and it was delicious.