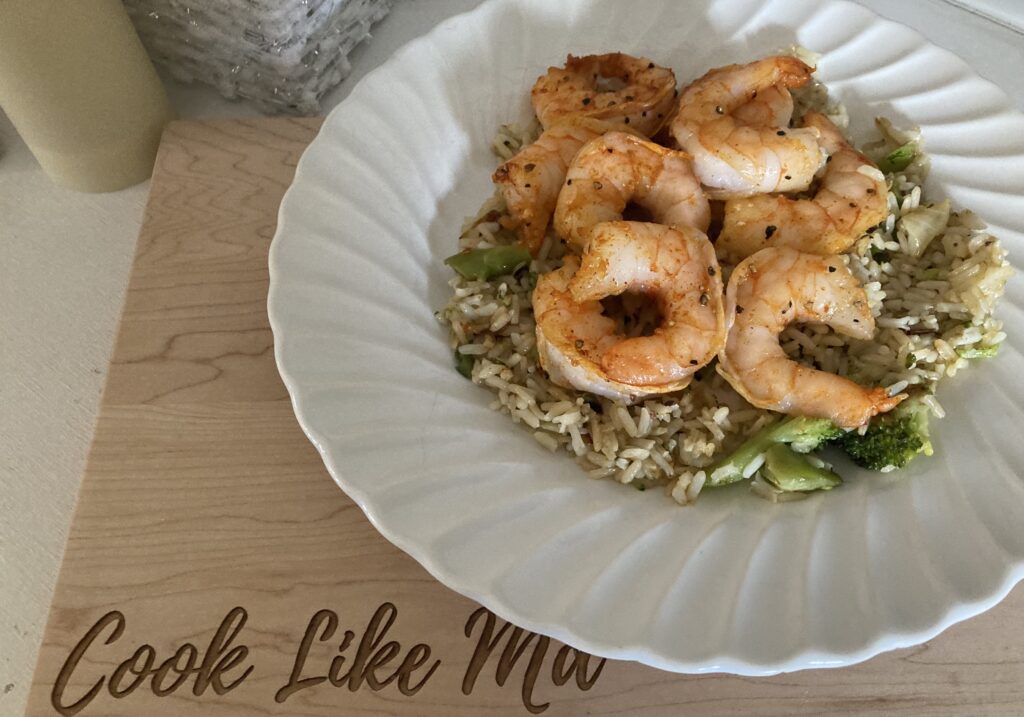 Hi all!
I'm back from a month long vacation. Other than one breakfast for friends, I haven't cooked until today.
Back to reality – Today I put this dish together for Taste Tester Tom and my lunch.
It's simple and quick but looks and tastes like a restaurant quality dish.
Rice
1 pouch ten minute rice
1 jalapeño cleaned and diced (make sure to remove all seeds and membrane)
1/4 cup chopped white onion
1/2 cup frozen broccoli florets
1/4 cup real butter
1/2, teaspoon Tomato, basil, garlic seasoning mix
Fresh grated sea salt to taste
1/4 cup chicken broth
Prepare rice according to package directions. Set aside.
In a deep sauté pan melt butter and add vegetables and sauté until tender. Stir in prepared rice and seasonings. Add broth and simmer to heat through.
Shrimp

20 frozen cooked shrimp washed and thawed
Olive oil
Coarse black pepper
Smokey paprika
Lemon juice
Place shrimp in a large mixing bowl and add oil and seasonings. Stir to coat.
Pre-heat airfryer to 390 degrees. Place shrimp in basket and process for 8-10 minutes.
Place shrimp on top of rice and serve with lemon juice.
TIP:
If you don't have an airfryer you can do the shrimp on a cookie sheet in the oven.