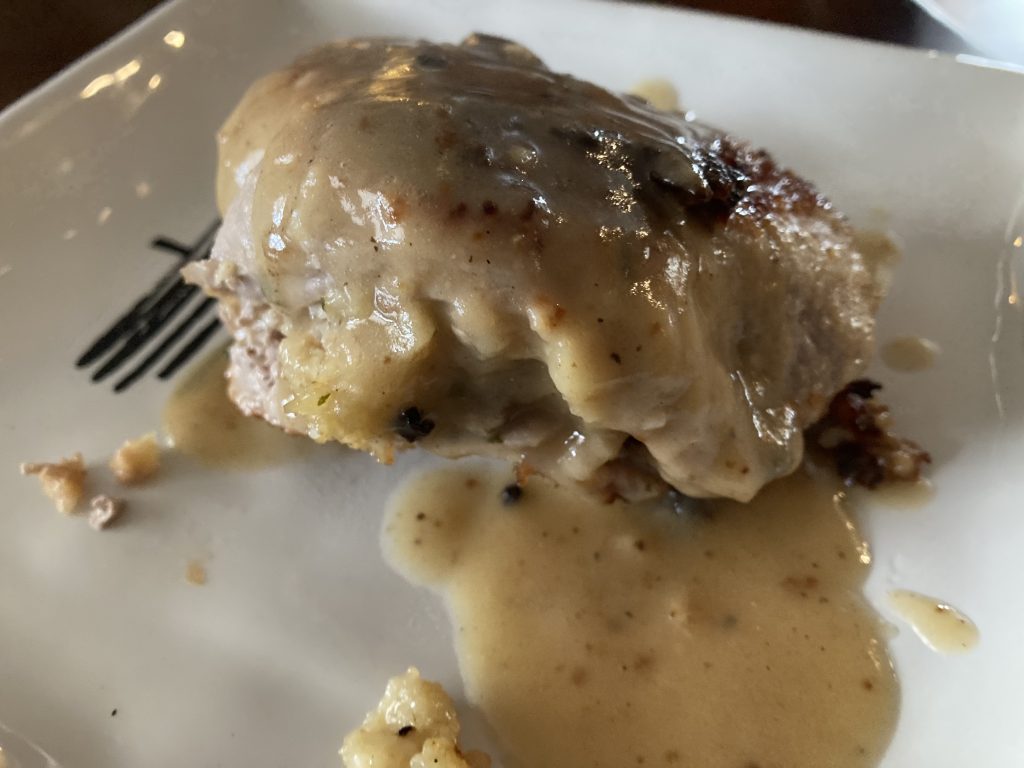 Stuffed pork chops qualify as comfort food. Always a delicious treat. This simple method makes it quick and easy to prepare. No need for complicated prep.
Here's what you need:
4 thick center cut chops
Flour seasoned with smokey paprika, fresh ground sea salt and coarse ground pepper
2 -3 tablespoons vegetable oil
1 box pork flavored stuffing mix
Short wooden skewers

Pat the chops dry with a paper towel. Using a sharp knife carefully slice each chop lengthwise to make a pocket. Do not slice entirely in half.
Prepare the stuffing mix according to package directions.
Spoon into each chops an ample amount of stuffing. Seal the pocket of each chop by weaving a skewer through the meat.
Lightly coat each chop with seasoned flour.
In a cast iron Dutch oven or other heavy skillet heat oil on medium high heat. Sear chops on both sides to create crisp browned outside. Reduce heat, cover and cook slowly for 45 minutes to an hour. Or it can be finished in the oven at 325 degrees for about an hour.
When done, remove chops and make gravy in the pan where they we cooked. Whisk in some of the seasoned flour into the drippings (add a bit more oil if not enough drippings) and heat until brown. Keep whisking and add a cup of water. Season to taste with salt nd pepper. Let simmer until desired thickness occurs.
Spoon gravy over each chop for serving.
TIP:
We enjoy cranberry sauce on the side. It's a delicious flavor pairing for pork.