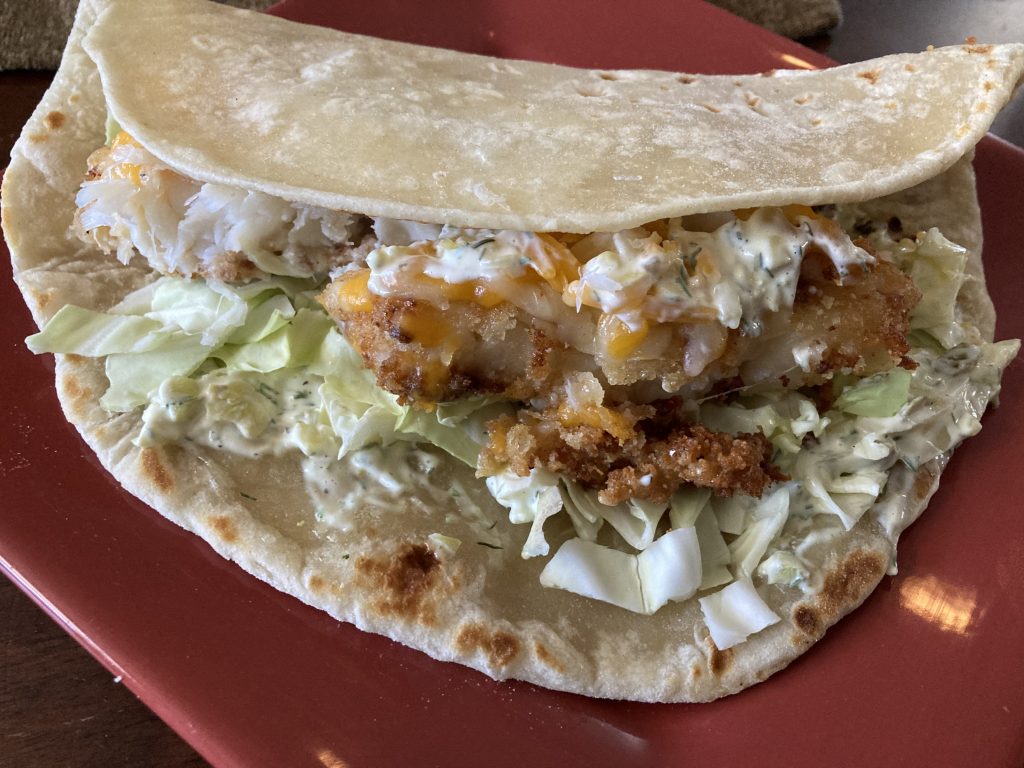 Taste tester Tom and I love filet of fish sandwiches. I decided it was time to come up with a Ma's version. This flatbread style with hand breaded cod and homemade tarter sauce was a winner winner!
Tartar Sauce
Whisk together:
1/2 cup real Mayonnaise
1/2 cup finely chopped dill pickles
2 teaspoons dried dill
1/2 tsp lemon juice
1 packet stevia or 1 teaspoon sugar
1/8 tsp freshly ground black pepper
1 Tbsp finely chopped onion
Cover and refrigerate while making bread and fish.
Flatbread is simple. Mix together in a stand mixer 2 loosely filled cups of flour and 3/4 cup milk and 3 1/2 tablespoons butter that has been microwaved just so butter starts to melt. Mix together with dough hook attachment for 10 minutes. Dough will form into a ball. Transfer the dough to a floured surface and knead until smooth. Shape in a ball and wrap in plastic wrap and let rest for about a half hour.
Cut the rested dough into 4 equal portions. On a floured surface roll each portion into about a 6-7 inch circle.
Spritz a shallow sauté pan or crepe pan with olive oil. Heat on medium high and then brown each piece of bread on each side. This doesn't take much time. As you remove the browned breads lay the first on on a paper towel an fold in half. Place each cooked piece on top of the other and fold together after each piece. Set aside the breads still folded and wrapped in paper towel. They'll stay warm while you prepare the fish:
Fish:
2-3 tablespoons vegetable oil
4 cod filets
1 cup finely grown cracker crumbs
Heat oil on medium high heat. Pat dry each filet with a paper towel. Dredge fish in cracker crumbs and place in hot oil. Cook for five minutes on each side or until browned and cooked through. Sprinkle the top of each filet with shredded cheddar jack cheese. Cover the pan and allow the cheese to melt. Remove from heat.
Build the Sandwiches
Spread each flatbread with 1/4 of the tartar sauce. Top with finely chopped raw green cabbage. Slice each filet lengthwise and arrange cheese side up on the cabbage. on one side of bread. Fold over the bread and serve warm.
Makes 4 sandwiches. So good!!!