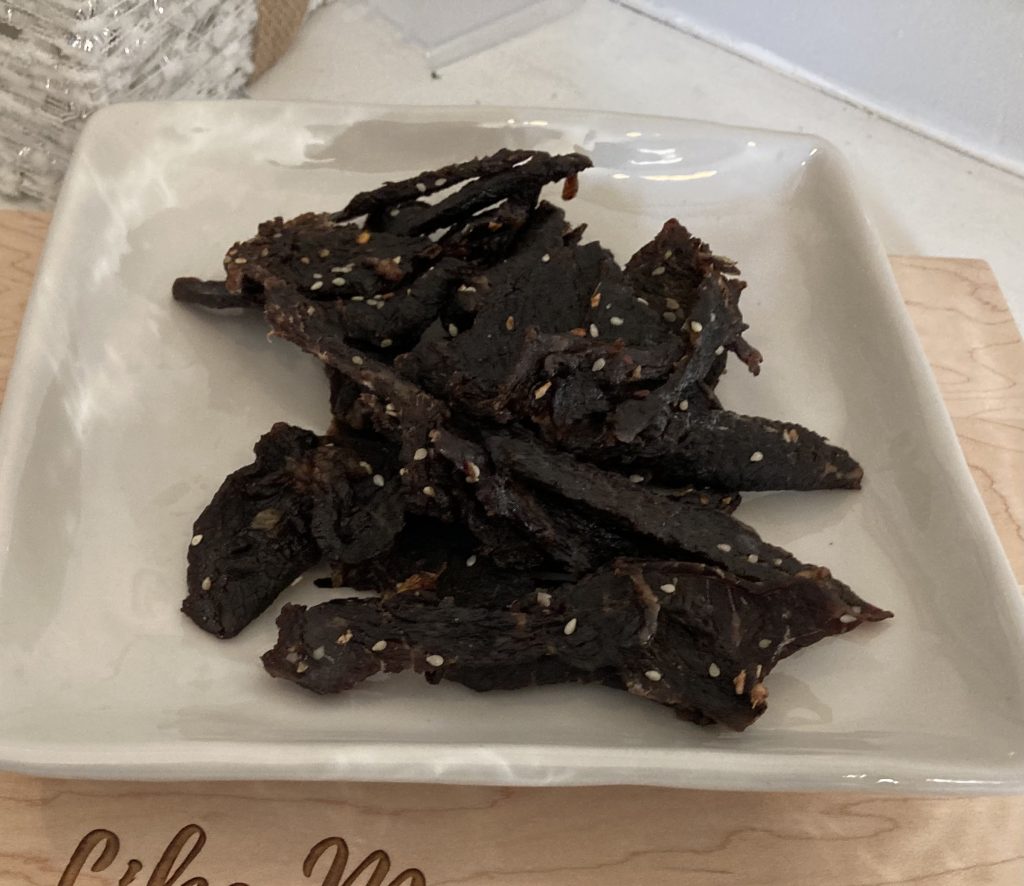 This homemade beef jerky is simple to make and tastes great. It's a wonderful snack to keep on hand.

Here's all you need.
1 cup Liquid Aminos or Soy Sauce
1/2 cup Rice Vinegar
1/2 cup Dark Brown Sugar
1/4 cup Sesame Oil
1 Tablespoon each: ground ginger, sesame seeds, chopped Garlic, and corse ground black pepper
1/2 teaspoon Crushed Red Pepper
1 tablespoon Liquid Smoke
1/2 cup Teriyaki Marinade or Sauce
3 Lbs raw Sirloin Roast sliced
I ask the meat cutter to slice the roast I select horizontally in about 1/4 inch widths. When preparing the meat for jerky it is easy to cut the meat in desired width strips. Trim off any excess fat.
In a large mixing bowl, combine all marinade ingredients. Transfer marinade to a large zip lock bag and add meat. Seal the bag and massage the meat in the marinade. Lay flat in the refrigerator over night. Turn occasionally.
When you are ready to dehydrate the beef, shake off excess marinade and arrange beef on trays in the dehydrator and process at 150 degrees for 7-8 hours.
I used a air fryer on the dehydrator setting. If you don't have an air fryer or dehydrator you can do this in the conventional oven. Place beef on racks over cookie sheets and process at 150 degrees for 7-8 hours.
The longer you leave the beef in the marinade the richer the taste. Overnight is ideal.