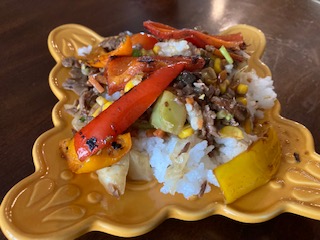 Stir Fry is a quick and delicious one dish meal.
This one I made with beef was especially tasty.
I use an electric wok, but a big deep skillet will work also.
I set my wok to 300 degrees. Drizzle toasted sesame seed oil into the wok. When it starts to smoke a bit add thin sliced steak or roast beef. Then add vegetables. I used chopped green onion, broccoli, sliced mushrooms, slivered carrots, small kernel corn, chopped cabbage and sliced red, orange and yellow mini peppers. Stir and fry until heated through but still crisp. Stir in cherry tomatoes. Drizzle with sauce.

Sauce
Mix 1/2 cup each P.F. Chang Triyaki sauce and Kikkoman Stir-Fry sauce and 1/8 cup Marsala wine.
Serve over sticky rice made according to package directions. I used sushi rice and added a tiny bit of rice vinegar to it.
Garnish with additional sauce and toasted sesame seeds.
Options
Other vegetables that add to this dish are pearl onions, celery and sliced water chestnuts.