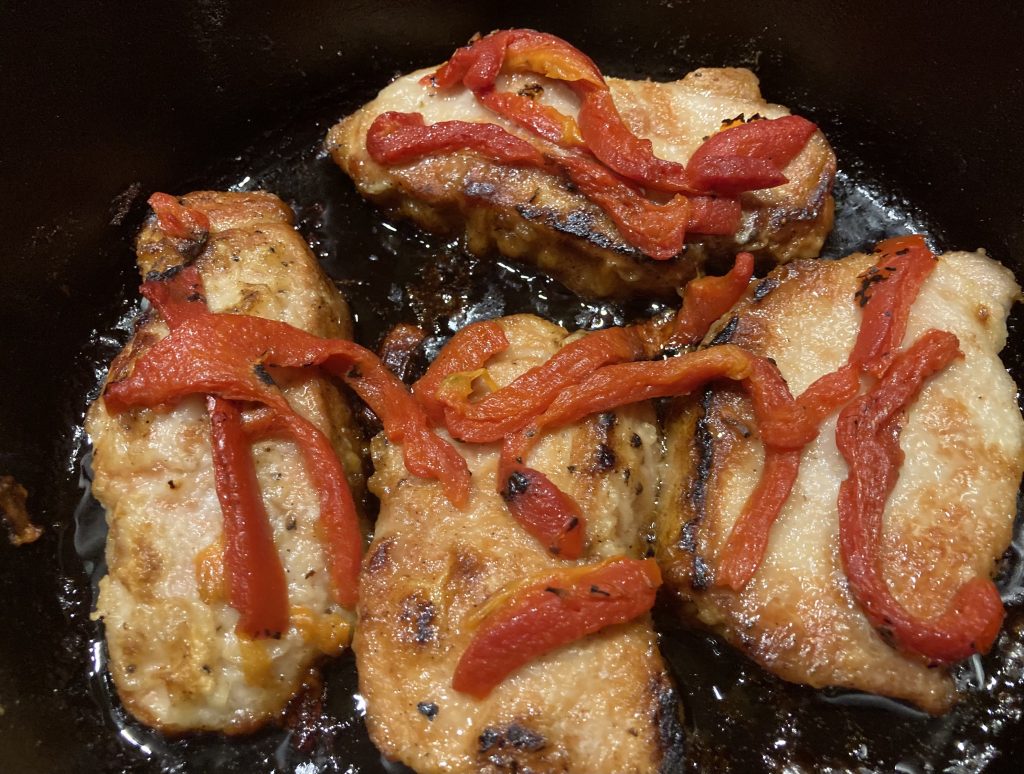 Adding roasted red peppers to traditional pan fried pork chops creates a delicious, kicked up version of a old favorite.
Here's what you'll need.
4 center cut pork chops
1 cup flour
2 tablespoons roasted garlic and red pepper seasoning divided
1/4 cup vegetable oil
roasted red pepper
Fresh ground sea salt to taste
Place flour and 1 tablespoon of seasoning in a ziplock bag.
Pat chops dry with a paper towel and add to flour mix. Zip bag and shake to coat chops. Heat oil on medium high heat in a flat bottom Dutch oven. Shake off excess flour from chops and brown in oil on both sides. Top with roasted peppers. Cover and bake for 1 hour in a preheated 350 degree oven.
Remove from oven and remove from Dutch oven and set aside. Heat oil on medium high heat and begin whisking in flour. Whisk and heat until thick and brown. Slowly add water and heat and whisk until gravy consistency is reached. Season with 1 tablespoon roasted garlic and red pepper seasoning and salt to taste.
Spoon gravy onto plate and top with pepper topped chops.
TIPS:
My favorite seasoning for this dish is The Gourmet Collection Spice Blends Roasted Garlic and Red Bell Pepper Blend – Garlic Powder Seasoning. You can get it on Amazon.
I used jarred roasted red pepper strips, but fresh peppers roasted in the oven and then sliced would be great.
How to roast red peppers.
Preheat the oven to 400 degrees. The
Cut the peppers in half and remove the stems, seeds and membranes. Place skin side up on a foil lined cookie sheet. Roast the red peppers for 15-20 minutes or until the skins are very dark and have collapsed.