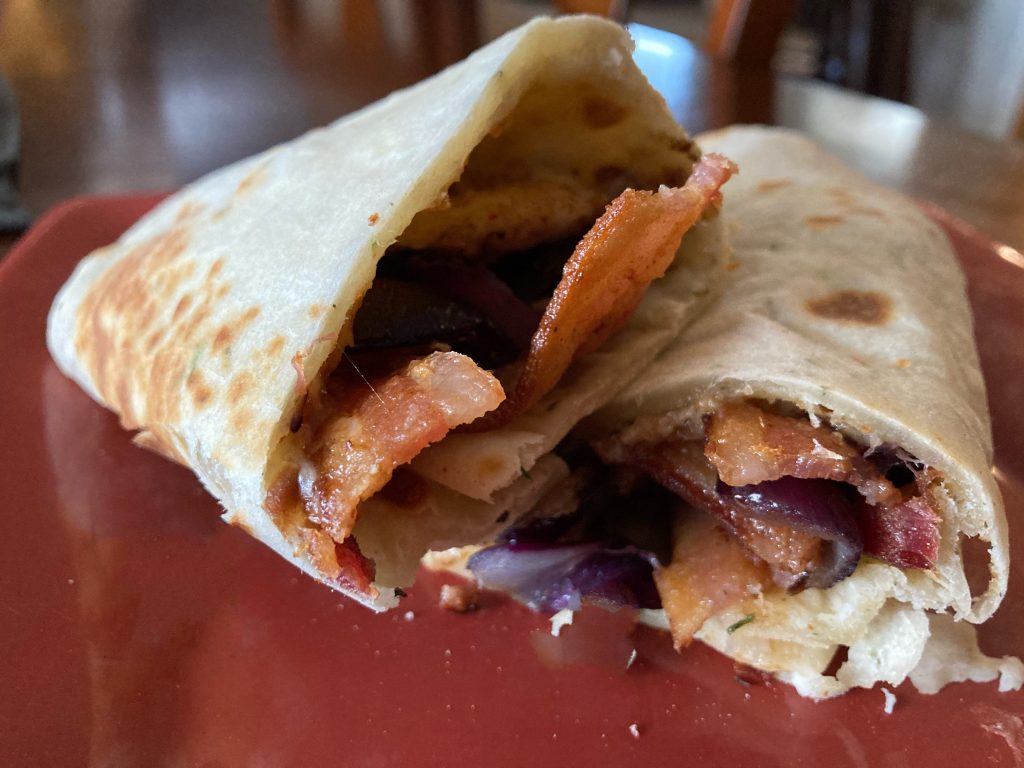 We love flatbread sandwich wraps. Here's a variation that was pretty tasty.

Here's what you'll need.
2 scant cups flour
1 teaspoon dried dill
1/2 teaspoon fresh ground sea salt
1 teaspoon pesto seasoning
3/4 cup milk
3 1/2 tablespoons real butter.
5 slices thick cut bacon cut in half
1/2 red onion thinly sliced
4 large chicken tenders
1/2 cup panko bread crumbs
1 tablespoon Cajun seasoning
8 slices three cheese (spicy) cheese slices
Herbed Flatbread
Place flour, salt, dill and pesto seasoning in a stand mixer bowl. Attached bread hook. In a Pyrex measuring cup mix milk and butter. Microwave just long enough for butter to begin to melt. Add to flour mixture and mix on high for about 10 minutes to knead the dough. Add a little flour as it mixes to form a ball. Remove to a floured surface and work dough until smooth. Wrap in plastic wrap and allow to rest for 30 minutes.
Divide dough into four equal portions. Roll each portion into about a 7-8 inch circle.
Heat a non stick crepe pan on medium high. Carefully brown each side. As you brown the bread remove each piece to a paper towel and roll into a cylinder. Allow to cook while wrapped.
Filling
In a small cast iron skillet brown bacon until crisp. Remove to paper towel and blotter off excess drippings.
Sauté onion in bacon drippings. Drain on paper towel.
Using a ridged meat mallet pound thin the chicken tenders. Pat dry with a paper towel.
Mix panko and Cajun seasoning in a ziplock bag. Add tenders and shake to coat.
Fry chicken in bacon drippings until cooked through and crisp on both sides. Blot off excess fat with paper towel.
Build your sandwiches.
Unroll the flatbreads and place 2 slices of cheese on each . Top with bacon, onion and chicken and re-roll bread. Place seam side down on a microwave safe plate and microwave for 1 minute.
Yields 4 wraps
TIP:
Taste Tester Tom added pickled jalapeño slices to his sandwich.