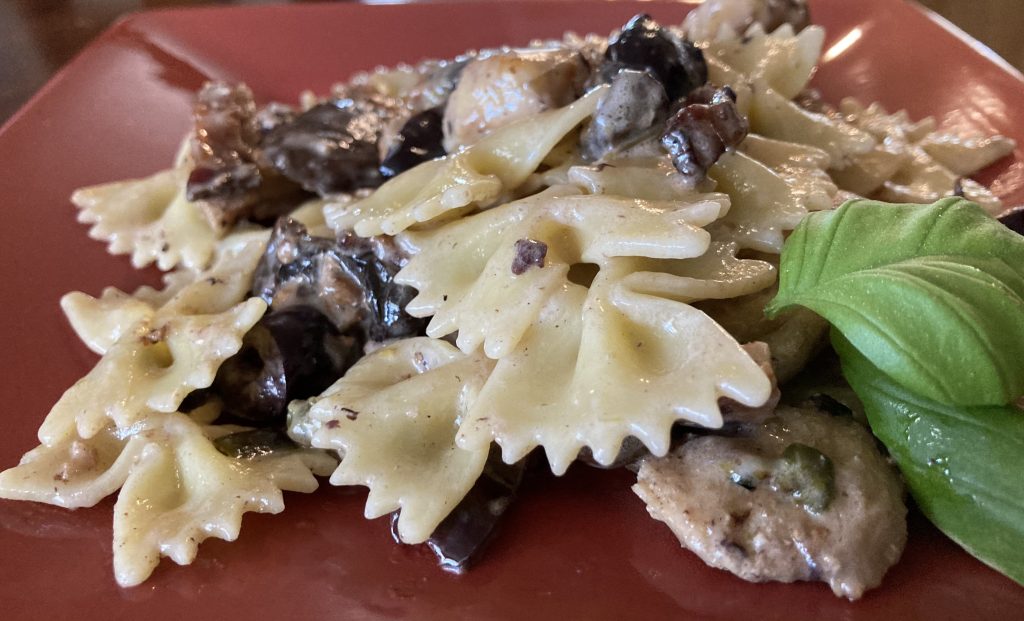 This is an easy to make pasta dish with a great combination of flavors. It's a mixture of bacon and chicken enhanced with fresh herbs and vegetables. A dash of Thai bbq sauce kicks it up a notch.
Here's what you'll need.
4 slices thick cut bacon
2 boneless, skinless chicken breasts
12 baby Bella mushrooms
1 shallot
12-15 Kalamata olives
hand-full of fresh basil
fresh ground sea salt
1/2 grated Asiago cheese divided
1/2 cup heavy cream
1 teaspoon Thai bbq sauce
bowtie pasta
Cut the bacon into tiny pieces an sauté on medium high heat until crispy. Drain excess fat into a larger skillet and set aside.
Slice mushrooms, shallot, olives and basil and add to bacon. Sauté with bacon pieces until tender. Set aside.
Slice the chicken into small, thin slices. Pat it dry with a paper towel. Heat the bacon drippings on medium high heat and add chicken. Uncooked until browned and cooked through.
Meanwhile prepare pasta according to package direction.
When chicken is cooked, fold in the bacon and vegetable mixture. Stir in 1/4 cup each cream and cheese. Simmer and stir to heat. Add Thai bbq sauce and salt to taste.
Fold in drained pasta and stir in remaining cheese and cream. Delicious!
Garnish with fresh basil.
TIP:
The best way to cut bacon and herbs is to use kitchen shears. Keeping a good pair of cooking shears on hand will be a wise investment.