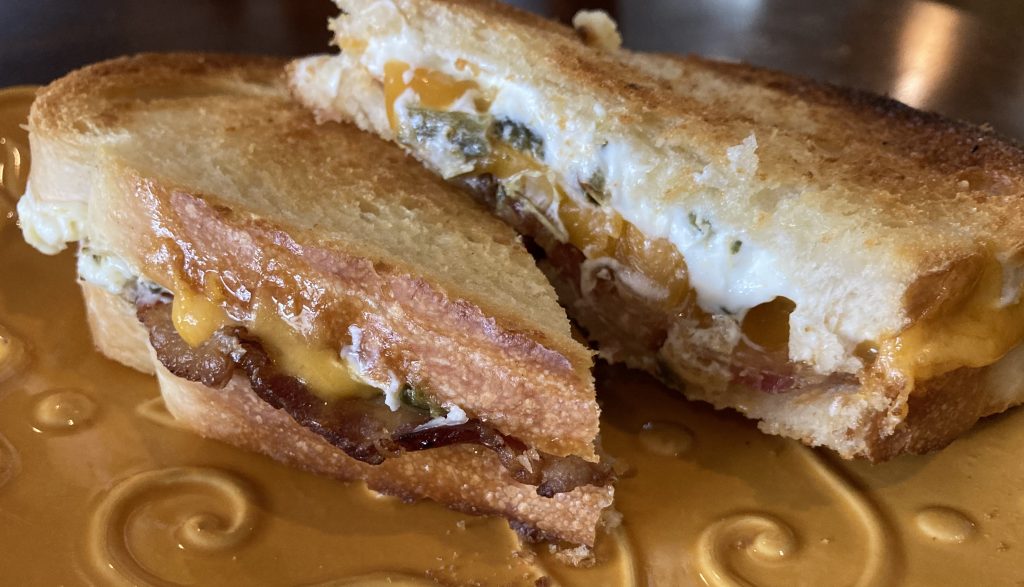 Once again credit for this delicious recipe goes to my son Val Craigo.
When Val made these sandwiches he did them entirely on a pellet grill and the Smokey flavors were very good.
I don't have a pellet grill so I did it a bit different. Although the sandwich was still pretty dang good, it is better on the grill.
I cooked the bacon and the peppers in a ridge bottom baking dish in the oven. For two sandwiches I used three thick cut slices of bacon cut in half and 1 large jalapeño cut in half with seeds, stem and membranes removed. I cooked in a preheated 300 degree oven for 1 hour and then patted away excess fat with paper towel.
I chopped the pepper into tiny pieces and mixed with 1/2 block of softened cream cheese.
To build the sandwich I butter the outside of Four slices of sourdough bread. Spread one side of the bread with cream cheese mixture and layer with sliced cheddar cheese and then bacon. Top with second buttered bread slice and toast in toaster oven or under the broiler.

This is such a good sandwich. It takes a bit of time to make, but it's worth the time and effort.