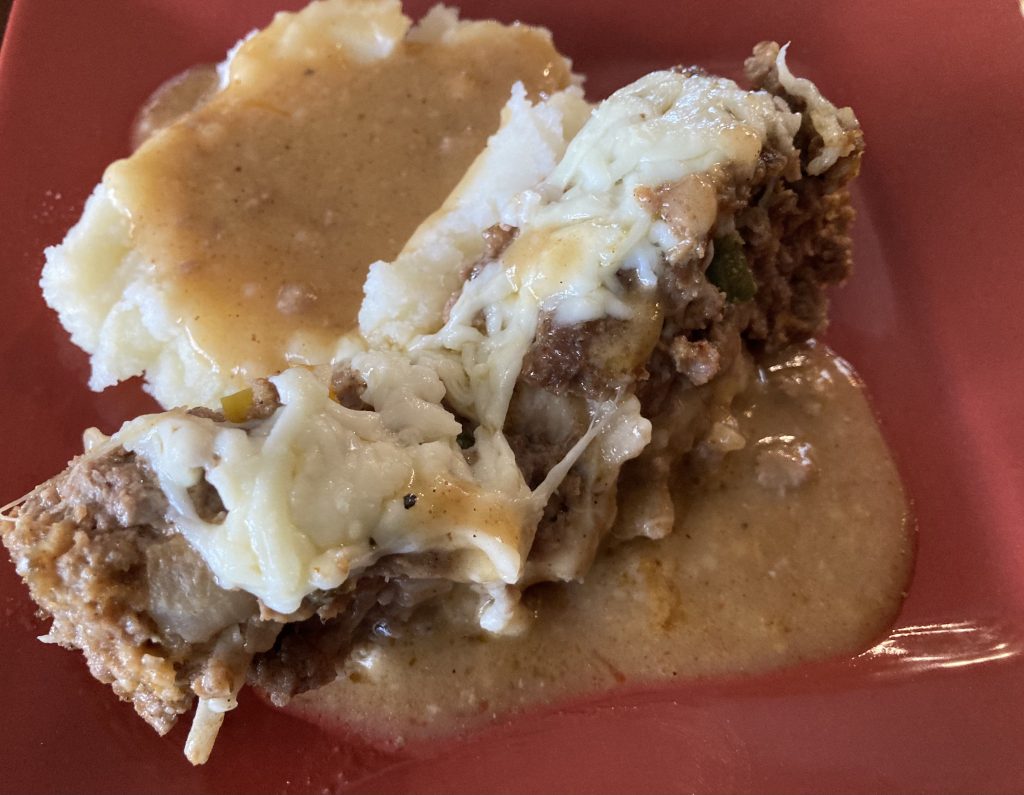 This version of meat loaf has an extra burst of Southwestern flavor and a surprise cheesy center.
Here's what you'll need.
1 1/2 lbs lean ground beef
1/4 white onion thinly sliced
6 chopped mini red, yellow and orange peppers
1 chopped jalapeño pepper with stems, seeds and membrane removed
2 eggs beaten
3/4 cup milk
1/2 cup finely ground cracker crumbs
2 tablespoons homemade spice mixture divided (recipe below).
2 cups mozzarella cheese divided
1/4 cup vegetable oil
1/4 cup flour
drippings from meat loaf
1/2 cup beef broth
water tablespoon
Pre-heat oven to 375 degrees.
In a large mixing bowl mix vegetables, eggs, milk, cracker crumbs and 1 tablespoon seasoning. Using a large fork mix in the beef.
Place half of meat mixture in a loaf pan. Make a well on the full length of the loaf and fill with 1 cup of cheese. Top with the remaining meat mixture. Work around the edges with a small spatula to seal loaf.
Bake for 55 minutes. Remove from oven and drain off excess fat into a measuring cup. Set aside. Top loaf with remaining cheese and return to oven for 10 more minutes.
Remove from oven and let set for about 5-10 minutes before slicing.
Gravy
Heat oil in a frying pan. Whisk in flour and heat until it starts to brown. Stir in drippings and beef broth. Add water as needed to get desired thickness. Season with remaining spice mix.
Spice Mix
2 tablespoons chili powder
1 1/2 teaspoons grated sea salt
1 teaspoon garlic pepper
1 teaspoon cumin
1/2 teaspoon ground oregano
1/4 teaspoon black pepper
Serve gravy drizzled over meat loaf.

TIPS
I use a loaf pan with a lift out tray. It makes it easier to drain drippings off the loaf. You can get the pans on Amazon.