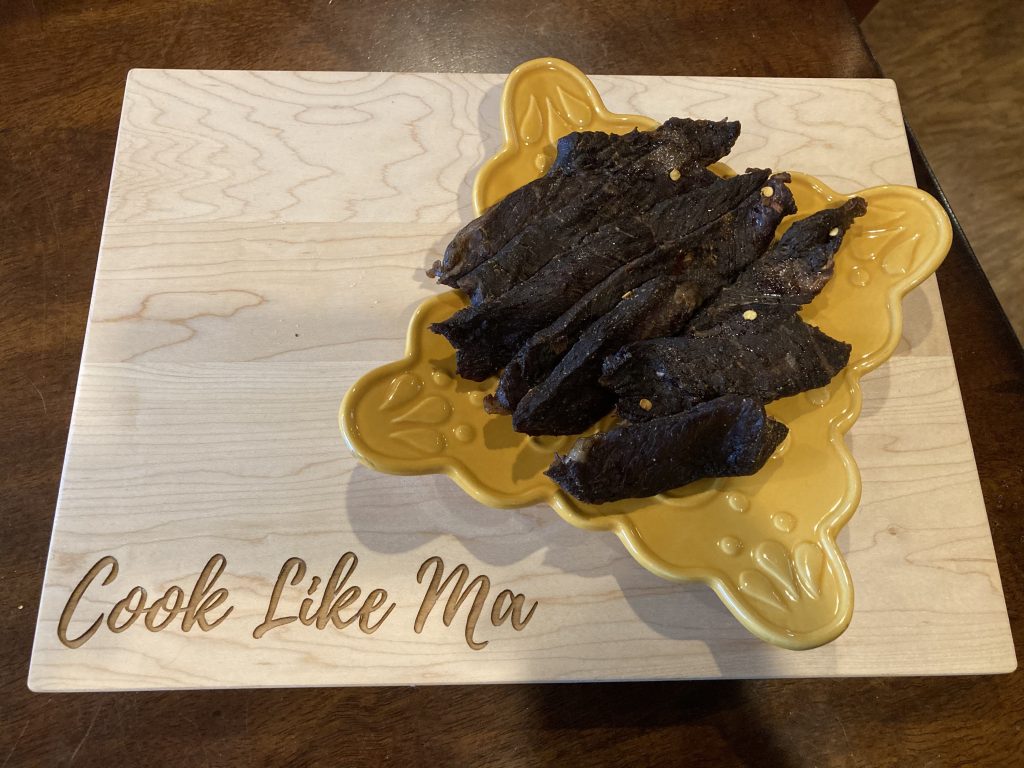 I've been experimenting with making beef jerky at home. It's really pretty simple. I started with beef but want to try other meats and fish. For now, here's how I did the beef jerky.
Here's what you'll need.
3 lb round roast
1/4 cup liquid aminos or soy sauce
2 tablespoons Worcestershire Sauce
2 tablespoons liquid smoke
2 tablespoons dark brown sugar
2 teaspoons fresh ground sea salt
1 teaspoon fresh ground black pepper
1 teaspoon garlic pepper
1 teaspoon dried onion flakes
1 tablespoon smokey paprika
1 teaspoon crushed red pepper flakes
Trim away all fat and cut the roast into very thin strips. Set aside in a ziplock bag.
Mix remaining ingredients together. Pour mixture into bag with meat. Seal and turn to coat meat. Refrigerate for 6-8 hours or overnight.
I used a dehydrator set at 155 degrees. Remove meat from marinade and arrange on dehydration trays. Set dehydrator for 7 hours.
NOTE:
I stared marinating the meat early in the day and the put it in the dehydrator before I went to bed. Perfect!
To slice the meat easily put It in the freezer for a few minutes prior to slicing.
Use a good, sharp chefs knife to slice.
I use aminos instead of soy sauce because it has less sodium.
If you don't have a dehydrator, you can use the oven. Preheat to 275. Reduce temperature to 166 degrees. Place the marinated meat on wire racks over tin foil. Leave in the oven for 6-8 hours.