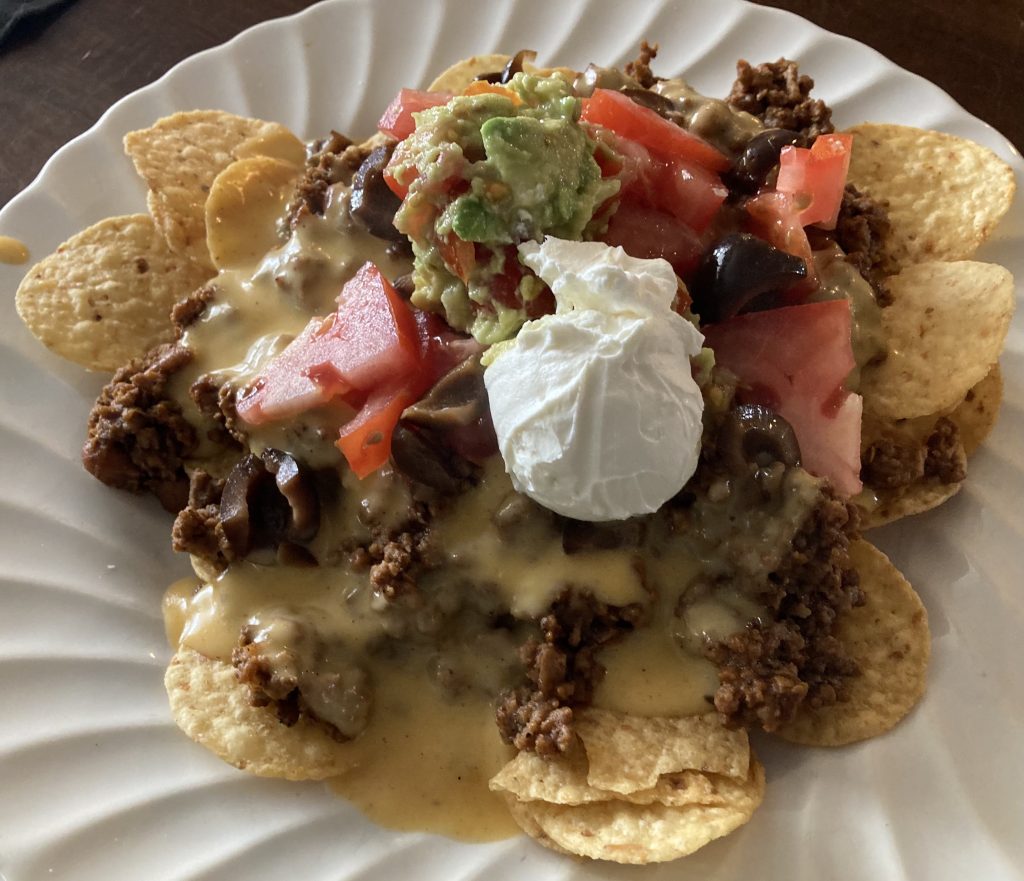 Making nachos from scratch is pretty simple. The taste is superior to what you might get in restaurants or pre-packaged.
By making your own taco seasoning and your own nacho sauce you'll kick up the flavors.
If you're going to do this read your whole recipe first and pre-measure everything you're going to use. Having everything pre-measured will make the preparation a lot more simple.
Here's what you'll need.
Sauce
2 tablespoons butter
2 tablespoons flour
1 cup whole milk
1 1/2 cup grated medium cheddar cheese
1/4 teaspoon chili powder
Note: Grate your own cheese using block cheese. Pre-shredded cheese doesn't melt as well.
Meat/Bean Filling
1 lb lean hamburger
1 can refried beans (15.5 ounce)
1/4 cup water
vegetable oil
Spice Mix
2 tablespoons chili powder
1 1/2 teaspoons grated sea salt
1 teaspoon garlic pepper
1 teaspoon cumin
1/2 teaspoon ground oregano
1/4 teaspoon black pepper

Toppings
Chopped fresh Roma tomato
Chopped black olives
pickled jalapeños (optional)
Round tortillas chips
sour cream
fresh guacamole ( find recipe on www.cooklikema.com)
First mix all the spices together and set aside
Chop tomatoes and olives and set aside.
Coat a cast iron skillet with about 2 tablespoons of vegetable oil. Add beef to hot oil and brown. Use a fork to crumble meat. Drain off fat. Stir in beans, water and spice mix. Cook on low for about 8 minutes. Cover and set aside.
Preheat oven to 350 degrees. Place chips on a flat tray and bake for about 15 minutes.
Meanwhile make the nacho cheese sauce. In a sauce pan melt butter. Whisk in flour and heat until it bubbles . Whisk in milk and whisk and simmer until it thickens. Remove from heat and add cheese. Stir until cheese melts. Season with chili powder.
Build your nachos!
Place warm chips on a serving dish. Top with meat and bean mixture. Spoon nacho sauce over meat and top with tomatoes and olives.
Serve topped with a dollop of sour cream and guacamole.
Fresh chopped white onion and pickled jalapeños are optional.