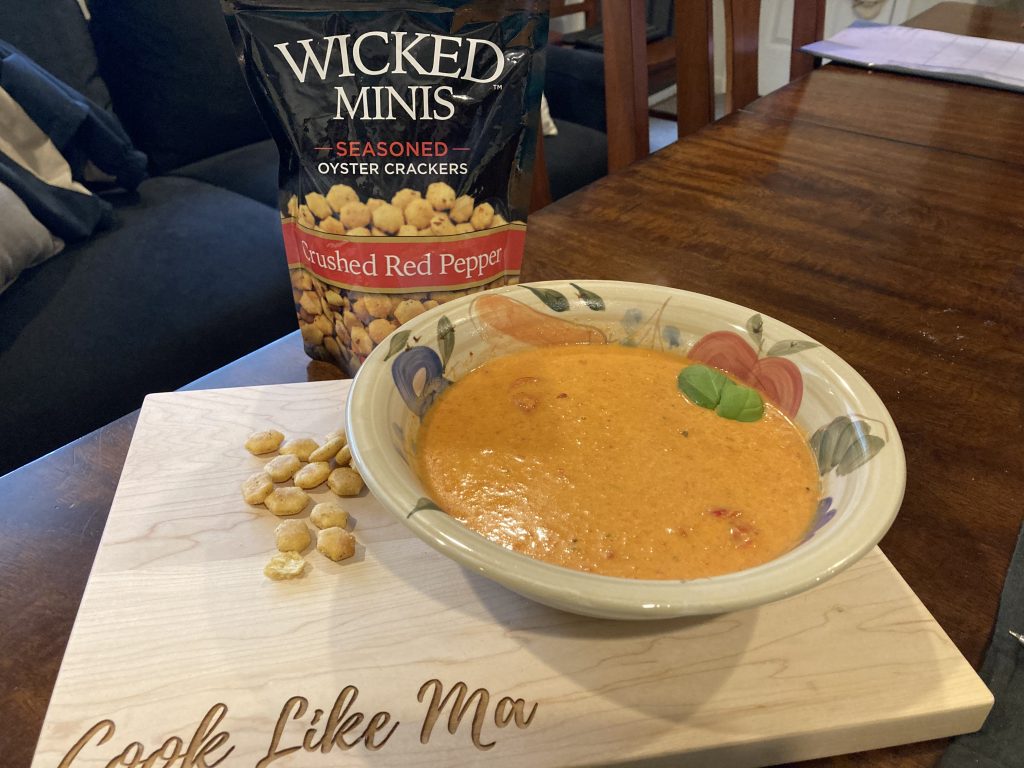 If available at a restaurant, we always order roasted red pepper soup. Recently I purchased some great organic red peppers and thought it was the perfect opportunity to try making this delicious soup.
Here's what you'll need.
4 large red bell peppers
1/2 large white onion chopped
2 teaspoons grated garlic
2 tablespoons real butter
3 1/2 cups chicken broth
4-5 fresh basil leaves
1/2 cup sundried tomatoes
1 cup heavy cream
1/2 cup grated Asiago Cheese
1 teaspoon sea salt
1 teaspoon roasted garlic and red pepper spice blend
1/2 teaspoon ground red pepper.
First you want to char the peppers. The simplest way to do this is to cut the peppers in half lengthwise. Remove stems and seeds. Place the peppers cut side down on a tinfoil lined cookie sheet. Place on a lower a of the oven under the broiler for about 15 minutes. Peppers should blacken. Remove peppers into a ziplock bag, seal the bag and let them steam inside for 15 minutes. Remove the peppers snd slide off the charred skins. Cut the peppers into bite size pieces and set aside.
In a deep kettle or Dutch oven melt the butter and add the onion and garlic to sauté until tender. Add remaining ingredients and simmer to combine flavors.
Use a blender or immersion beater to blend soup until smooth. It's ok to leave a few chunks of peppers and tomatoes in the soup.
Taste Tester Ton found some great oyster crackers to compliment the soup. They were called ; Wicked Minis Roasted Red Pepper Oyster Crackers.