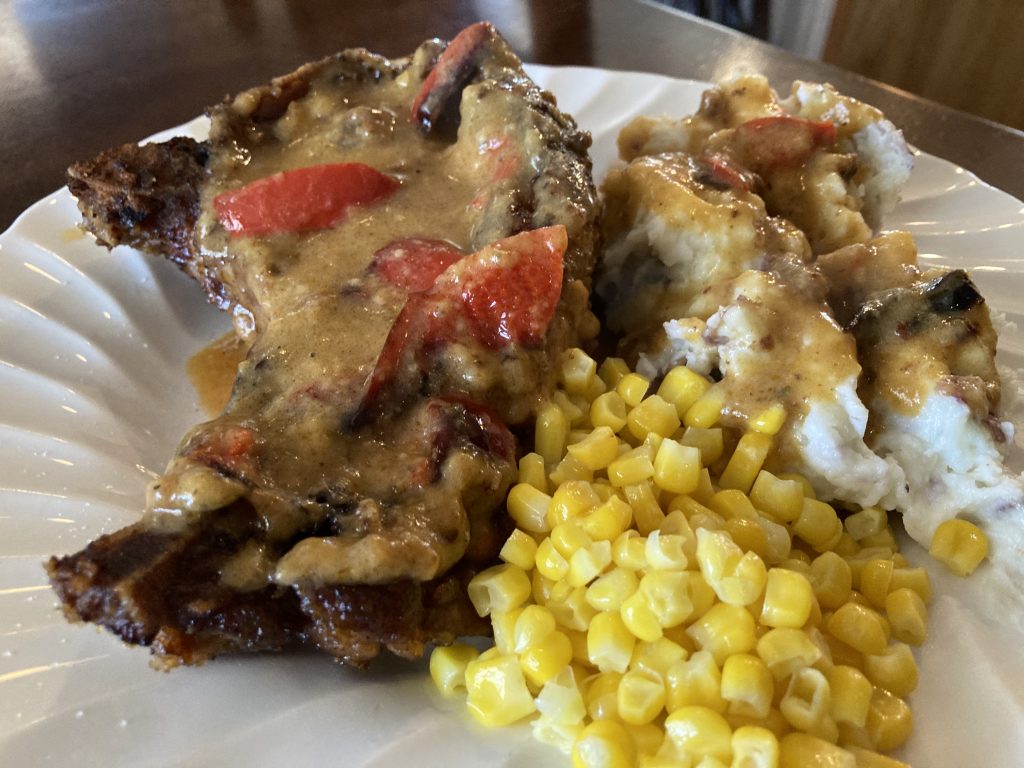 My all time favorite comfort food meal is pork chops, corn and mashed potatoes with gravy.
With that in mind, today I tried to kick it up a bit with spices and fresh red bell peppers. Winner Winner!
Here's what you'll.
2 thick bone-in pork chops
vegetable Oil
1 fresh red bell pepper
1/2 cup flour
1 teaspoon ginger lemon sriracha spice blend
1/2 teaspoon Smokey paprika
sea salt
Mix together flour and spice blend. Set aside. Pat chops dry with a paper towel. Heat oil in a cast iron Dutch oven. Place chops in heated oil and brown and crisp the chops on both sides on medium high heat. Sprinkle chops with Smokey paprika and sea salt.
Remove stem, membrane and seeds from red pepper. Slice the pepper into small, narrow strips and add to Dutch oven with meat. Cover and cook on low until peppers begin to slightly char and meat is tender.
Remove chops and set aside. Increase heat to medium high and add remaining flour to heated oil and peppers. Stir with a wire whisk and allow the mixture to begin to brown. Whisk in a cup of water allow gravy to thicken. Add more water as needed. Season with sea salt and fresh ground pepper.

Serve chops with gravy an peppers spooned over the top.
TIPS
The spice I used can be found on Amazon. The brand is The Gourmet Collection Spice Blend. It comes in a variety of flavors and blends.