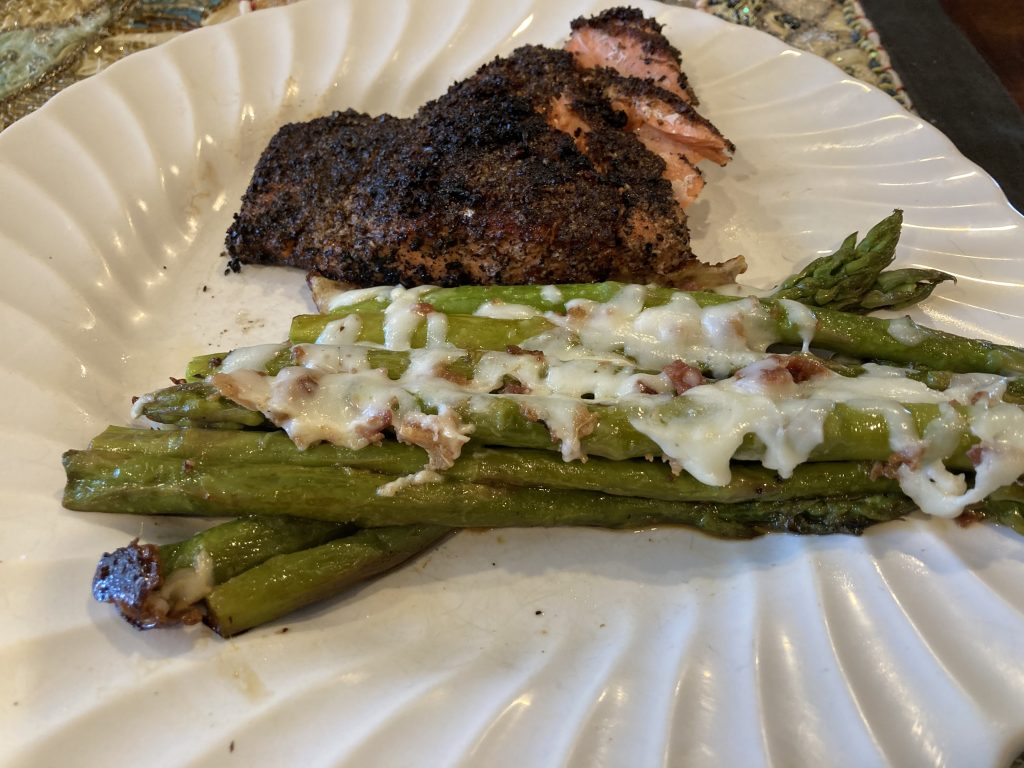 I learned this method of preparing pan roasted asparagus from my "grandson by choice" Aaron Rolczynski.
It's a simple way enhance the asparagus flavor and pares well with most any dish.
Here's what you'll need.
1 bunch of young asparagus spears
olive oil or real butter
1 tablespoon packaged real bacon bits
1/3 cup shredded mozzarella or Parmesan
sea salt
Cut away the thick end of the asparagus spears and discard. Steam the trimmed spears for about 8 minutes.
In a large sauté heat 2 tablespoons of olive oil or butter on medium high heat. Add the asparagus and sauté, turning occasionally to lightly char the asparagus. Sprinkle the spears with bacon and cheese. Season with sea salt. Turn off heat and let set covered while cheese melts. Serve hot.
Salmon
2 salmon filets
1/3 cup pecan flour
1/8 teaspoon ground fennel
olive oil
lemon juice
Use a paper towel to pat dry the fish. On a dinner plate mix together the pecan flour and the fennel. Roll the filets one at a time in the flour/fennel mixture coating all sides. Heat the olive oil on medium high in a small skillet. Add the fish to the heated oil and fry slowly until somewhat blackened and crisp. Fish should be cooked through and moist. Don't overcook. Add a dash of lemon juice to the skillet. Cover remove from heat and let steam for a few minutes.
Serve with fresh ground sea salt to taste.