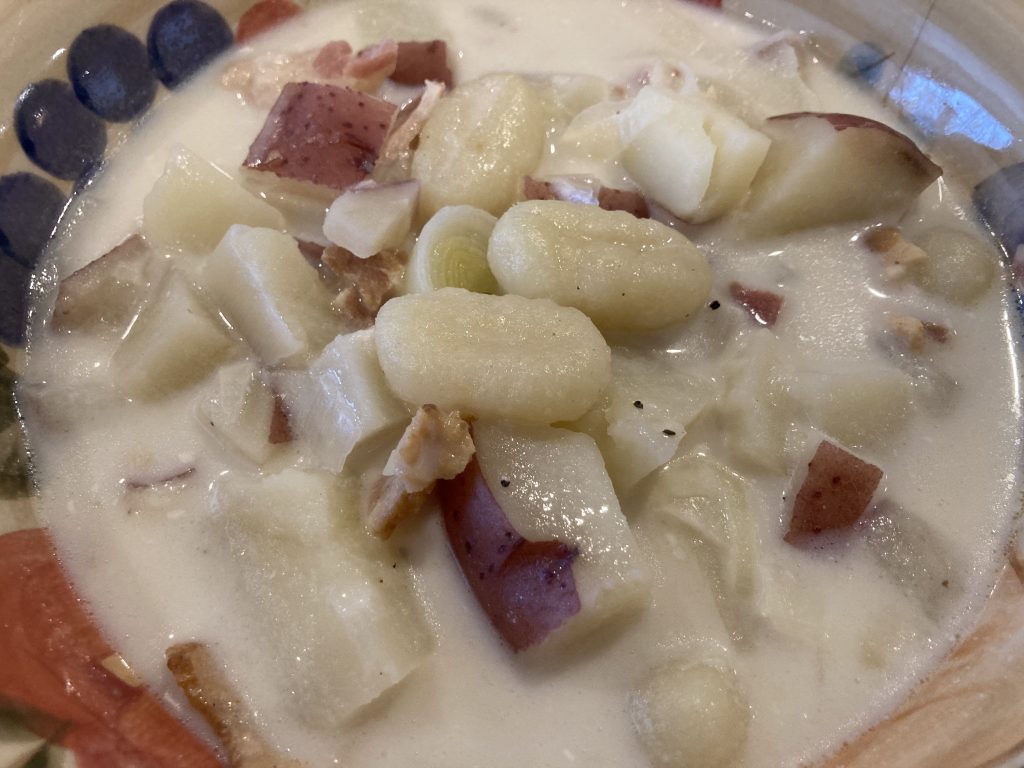 This rich and creamy soup is just the ticket for the cold days ahead.
Adding potato gnocchi to potato soup makes a hearty and delicious soup.
Here's what you need.
3 large red potatoes
1/2 package potato gnocchi
1/2 cup sliced leeks
3 slices of bacon cut into small pieces
Water
2 tablespoons real butter
3 tablespoons flour
1 cup milk divided
1/2 cup heavy cream
Fresh ground sea salt
Coarse black pepper
Cut unpeeled potatoes into cubes. In a medium large kettle add potatoes, leeks and bacon. Cover with water and bring to a boil. Cook at a gentle boil unit potatoes are tender but firm. Add gnocchi and cook for an additional 3 minutes.
Do Not drain.
In a separate sauce pan melt butter. Stir in flour and blend to make a paste. Add a enough milk to make a smooth roux. Add roux to the pot of potatoes, gnocchi, leeks, bacon and water. Stir in remaining milk and cream. Season to taste with sea salt and coarse ground pepper.
Serve hot with toasted sourdough bread on the side.
TIP:
Gnocchi (pronounced NYOW-kee) are an Italian pasta, the most common of which is classic potato gnocchi (Gnocchi di patate). They are made of cooked mashed potatoes, flour and eggs.
Packaged gnocchi are available in most larger grocery stores.