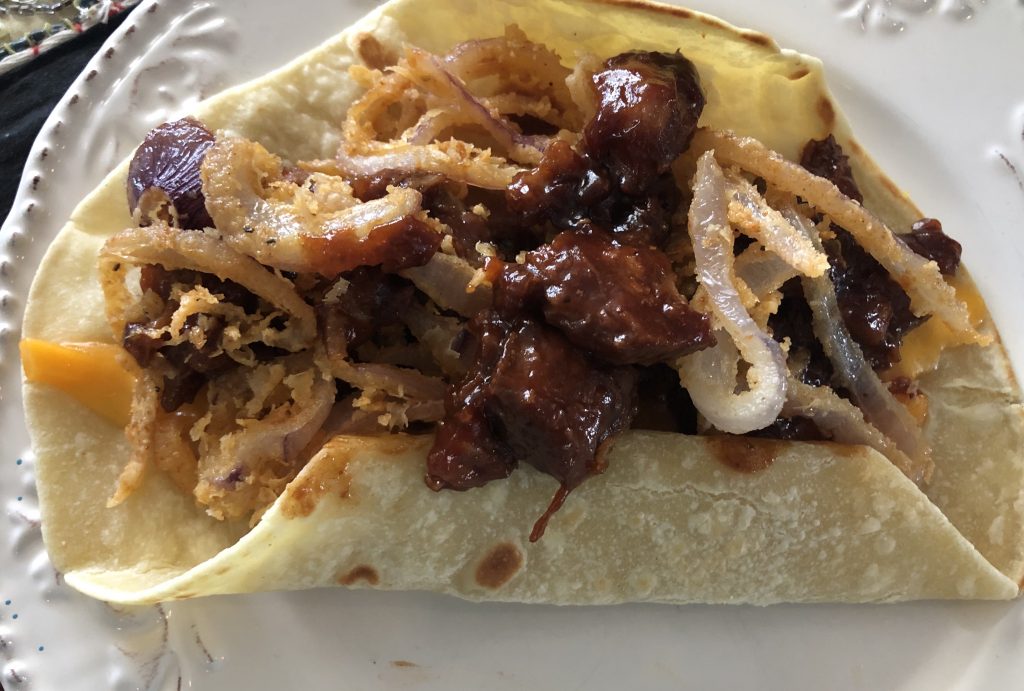 This is a tasty pulled pork sandwich. It's simple to make.
Here's what you need.
4 small pork steaks
2 tablespoons olive oil.
Sweet Baby Ray's BBQ Sauce
4 slices mild cheddar cheese
4 Flatbread slices
1 peeled and thinly sliced red onion
1 1/2 cups milk
1 1/2 cup flour seasoned with salt, pepper and smokey paprika
vegetable oil
Peel and slice onions. Cover in milk and set aside to soak while you prepare the pulled pork.

Heat olive oil in a deep Dutch oven. Sear steaks on all sides. Reduce heat to low, cover and let slow cook for several hours until meat is tender. Remove meat to a cutting board. Discard any liquid. Shred meat and return to Dutch over. Add BBQ sauce to coat pork. Mix well. Cover and continue to simmer on low.When meat is heated through. Make the onions. Heat vegetable oil to 360. Drain milk off of onions. Shake off excess milk and dredge onions in seasoned flour. Shake off excess flour and drop in hot oil. Fry until golden brown. Drain on paper towel.
Build Your Sandwiches
Place cheese slice on a flatbread slice. Heat for about 30 seconds in the microwave to warm bread and melt cheese. Top with pork and onions. Fold over and serve hot.
Yields 4 sandwiches.
You can use packaged flatbread or make your own. You can a find recipe on this blog.
If you use bottled BBQ sauce I prefer Sweet Baby Ray's. Also on this blog you'll find my recipe for homemade sauce. You can make it and keep it on hand in a sealed container in the refrigerator.