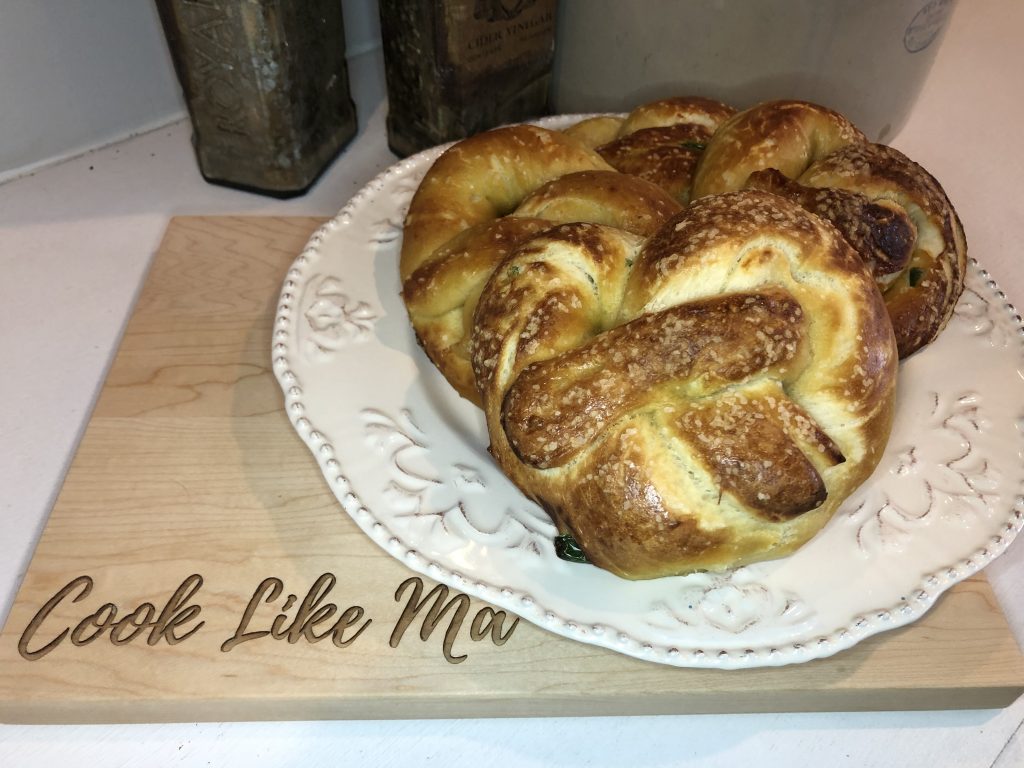 A warm soft pretzel at the mall is always a treat. I've been practicing making them at home. There aren't many trips to the mall these days. Pretty Tasty!
Here's what you'll need.
1 1/2 cups warm (110 to 115 degrees F) water
1 tablespoon sugar
2 teaspoons kosher salt
1 package active dry yeast
4 1/2 cups
1/4 teaspoon nutmeg (optional)
2 ounces real butter, melted
2 large chopped jalapeños with stems, seeds and membranes removed
Olive oil, for pan
8-10 cups water
2/3 cup baking soda
1 large egg yolk beaten with 1 tablespoon water
Pretzel salt
Dissolve yeast , salt and sugar in warm water. Set aside til it begins to raise and bubble. 10-12 minutes.
In a stand mixer bowl place flour, melted butter and chopped jalapeños and nutmeg. Add yeast mixture and mix with bread hook attachment on low speed to knead dough for about 5 minutes. Shape dough into a ball and place in a well oiled bowl. Cover with plastic wrap and then a towel. Place in a warm place for 1 hour to raise.
When dough has doubled in size move it to a slightly oiled surface. Divide into 8 pieces.
Shape each piece into a 20-24 inch rope. Fold rope into a U shape and twist ends together. Fold twisted ends backwards to the center of the U.
Bring 8-10 cups of water and 2/3 cups of baking soda to a rapid boil. One at a time boil the pretzels for 30 seconds. Remove with a wire slotted spoon and place on an oiled baking sheet. 4 pretzels to each sheet.
Brush each pretzel with egg and water mixture and sprinkle with pretzel salt or kosher salt.
Bake one sheet at a time on center rack of a preheated 450 degree oven for 12 minutes.
pretzels should be a dark golden brown.

TIPS:
These are great eaten plain or dipped in cheese sauce or honey mustard.
To create warm place for dough to raise, preheat the oven to 200 degrees. Leave on for 2 minutes and then turn off oven. Place covered dough on center rack of oven for raise time.
An easy way to shape your dough ropes is to begin rolling between your hands. Grasp the ends of the rope and twirl in a circular motion until you get the desired length.