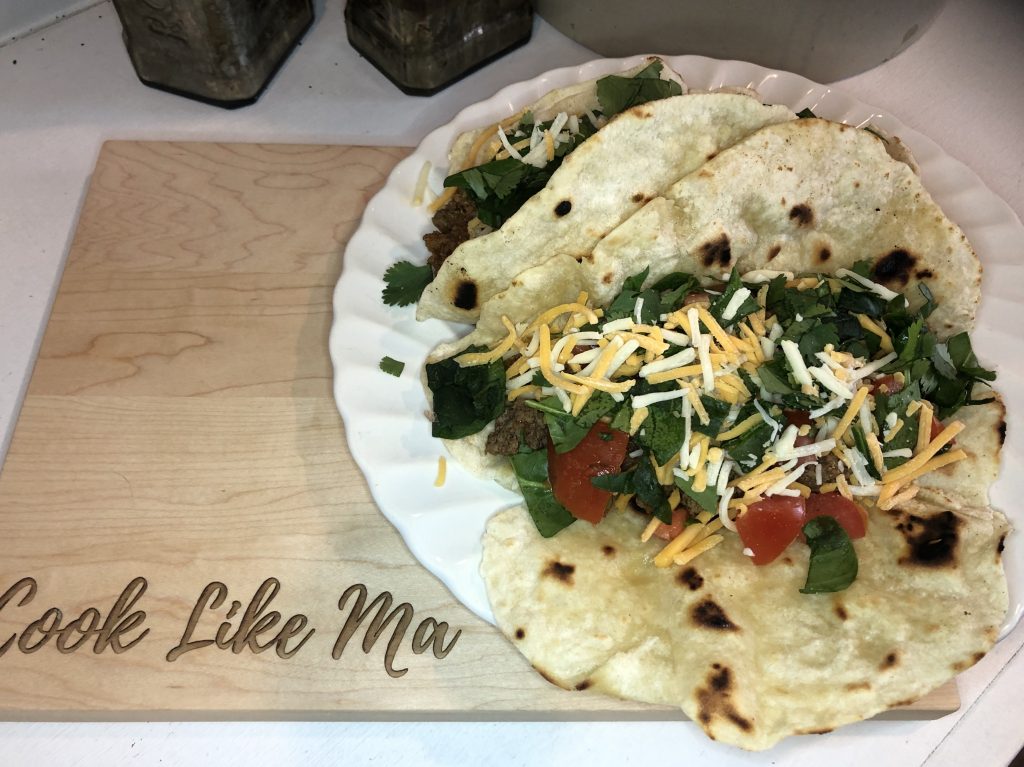 We love homemade tacos with homemade tortillas. It's really pretty simple and far better than store bought taco shells.

Homemade Tortillas
Measure 4 cups of flour into a large bowl. Add 2 teaspoons baking powder, 1 teaspoon salt and 2 tablespoons vegetable shortening. Wearing disposable gloves start working the shortening into the flour with your hands. Work it until it resembles cornmeal. Add 1 1/2 cup water and continue working the dough and kneading it until smooth.
Shape the dough into a ball and place on a floured surface. Separate the dough into 24 equal pieces. Shape each piece into a ball. Roll each ball into a 7 inch circle.
Heat olive oil on medium in a shallow sauté pan or crepe pan. Working one at a time, fry tortilla on each side. When cooked fold over to form taco shell or place in a taco mold to cool.
Filling
2-3 pounds lean ground beef
1 package taco seasoning
1/4 cup water
In a large skillet brown beef, crumbling with a fork. Drain off fat using a colander and then rinse beef with warm water to remove any additional fat. Return to frying pan, stir in seasoning packet and water. Cover and let simmer on low while you prep toppings and fry tortillas.

Toppings
Shredded Mexican blend cheese
2 Roma tomatoes diced
1 cup fresh spinach chopped
1/2 red onion diced
fresh chopped cilantro
bottled taco sauce
Build your taco
I like to have everyone build their own home tacos. Everyone has a favorite way to fill their tortilla. Just set out the prepared tortillas, meat, and toppings.