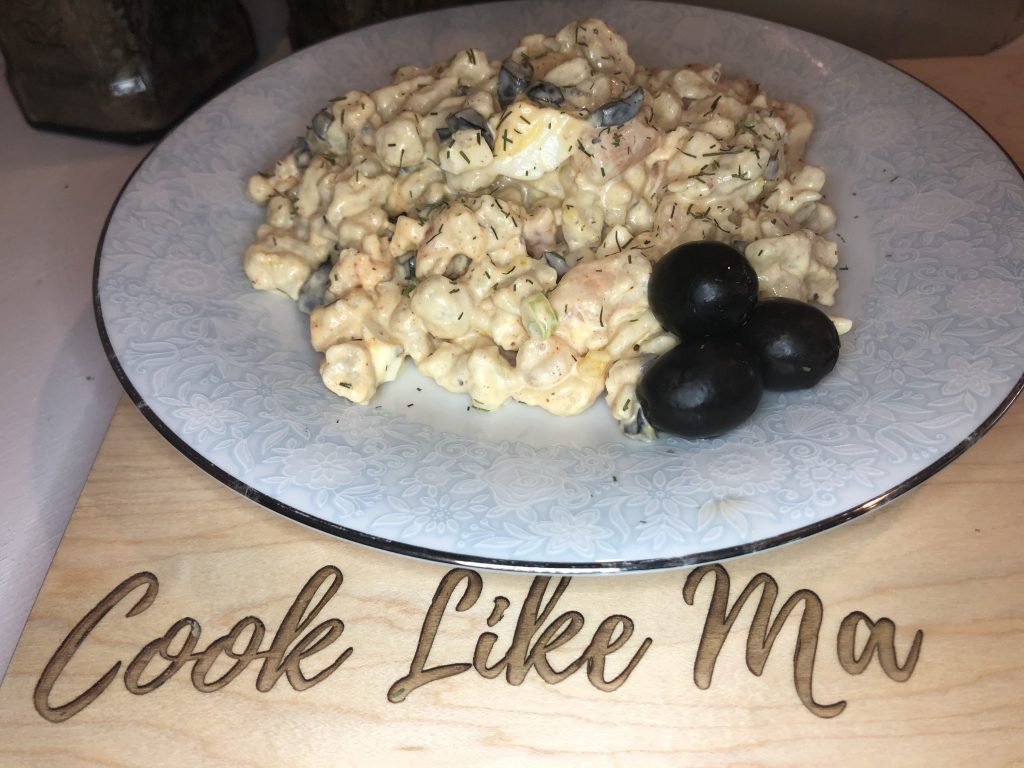 Since learning to make Spaetzle, I've had the notion it would make a great version of macaroni salad. I was right! This is so good.
The bonus is that Spaetzle has nearly half the carbs and calories per cup as traditional macaroni.

How to make basic Spaetzle.
Large soup kettle of rapidly boiling water
1 1/2 cup flour
1 teaspoon sea salt
3/4 teaspoons nutmeg
3 eggs whipped
3/8 cup milk
Mix dry ingredients and set aside. In a medium mixing bowl whip the eggs. To the egg gradually mix in milk and flour mixture alternately. Mix until smooth. Place spaetzle maker over the bowling water. Spoon dough into Spaetzle maker cylinder and slide back and forth over slotted base into water. Spaetzle is done when it floats to the top. Scoop out of water with a slotted or wire mesh spoon.
Chill Spaetzle in ice water. Drain off water and place Spaetzle in a large mixing bowl and set aside.
Note: If you don't have a Spaetzle maker, a large hole colander will work.
Dressing

3 hard cooked eggs peeled and chopped
1 green onion chopped including white and chive portions
1/2 cup chopped black olives
1/2 cup real mayonnaise
1 tablespoon yellow mustard
1/4 cup sweet pickle relish
1/4 teaspoon hot or Smokey paprika
1 teaspoon lemon juice
1 cup salad shrimp
sea salt, pepper and dried dill to taste
Combine all above ingredients with Spaetzle. Blend well to coat Spaetzle. Place in a covered bowl and refrigerate. Serve cold. YUM!