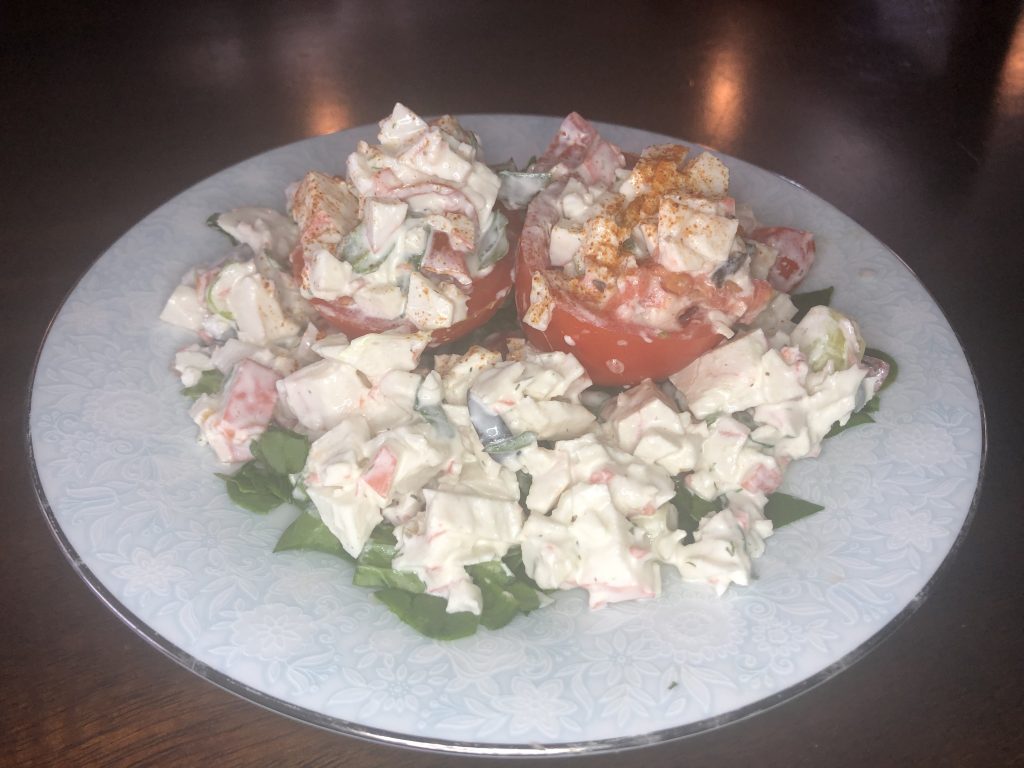 This salad tastes so fresh and delicious. Although it's pretty healthy to eat, you might catch yourself going back for more.
I love crab salad, and I've always been fond of stuffed tomatoes. Here I've combine the two and expanded on it a bit more with some other fresh ingredients.
Here's what you'll need.
1 1/2 pound fresh or imitation crab meat
2 tablespoons lime juice
2 chopped green onions (white and chives)
1 finely chopped celery stalk
1/2 cup chopped black olives
1/2 cup diced cherry tomatoes
1/2 cup finely chopped fresh spinach
1/2 cup Greek yogurt
1/2 cup real mayonnaise
1/4 teaspoon dried dill
Spicy sea salt to taste
large whole tomatoes
fresh spinach finely chopped
Finely chop crab and place in a large mixing bowl. Drizzle with lime juice. Add remaining ingredients except large tomatoes and extra chopped spinach. Mix well to combine to coat with mayonnaise and yogurt.
For each salad, chop a portion of fresh spinach and place on a salad plate. Cut tomato in half and scoop out center. Chop the tomato meat and add to the crab mixture. Spoon crab mixture onto spinach, nestle the tomato in the center and fill with additional crab mixture. Garnish with hot paprika. Serve cold.
Yields 6 individual salads.