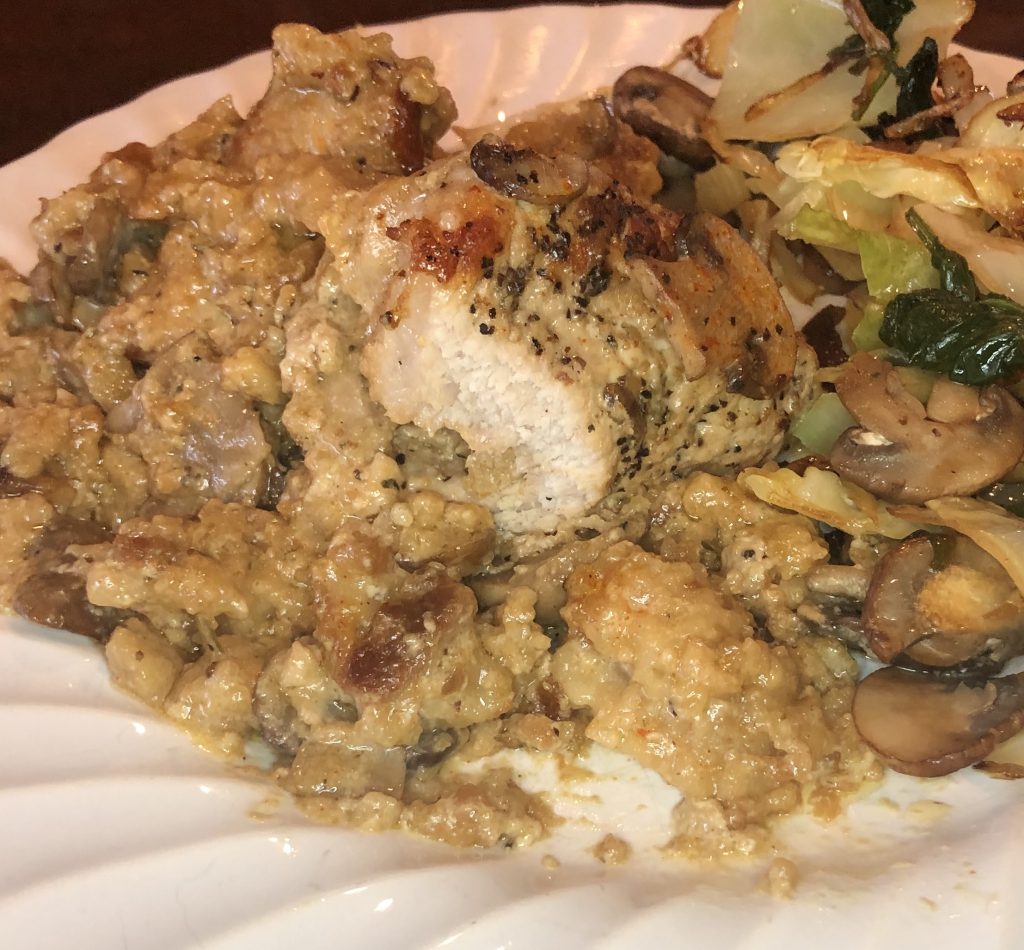 Taste Tester Tom and I love pork chops. This version of stuffed pork chops takes the dish to an elevated stage of flavor. Absolutely delicious!
Here's what you'll need.
4 boneless center cut thick pork chop
1 package of stove top stuffing
1 1/2 cup water
2 tablespoons real butter
spicy sea salt
Course ground black pepper
1 tablespoon Smokey paprika
3/4 cups heavy cream divided
10 baby Bella mushrooms sliced thin
1 cup chicken broth
2 tablespoons olive oil

In small kettle sauté mushrooms in 1 tablespoon real butter. Add broth, bring to a boil and add 1/2 cup heavy cream. Season with spicy sea salt. Reduce heat and simmer while preparing stuffing and chops.
Prepare stuffing mix according to package direction. Set aside. Slice the chops lengthwise to filet open. Using the ribbed edge of a meat mallet tenderize the chops on both sides to flatten out. Season the chops on both sides with salt and pepper. Spoon prepared stuffing onto one end of chop and roll tightly to opposite end. Secure with a wooden dowel. Add addition pepper to outside of rolled chop to create a pepper coating. Heat olive oil in a 6 quart Dutch Oven. Place chops seam side down in hot oil and sear on both sides. Once chops are browned and seared together, remove dowels.
Spoon remaining dressing between chops. Pour homemade mushroom soup over entire dish. Sprinkle with Smokey paprika. Cover and place in a preheated 350 degree oven for 1 hr. After 30 minutes add remaining cream, recover and return to oven for remaining 30 minutes.
This dish is rich and creamy, tender and delicious.
Serves 4