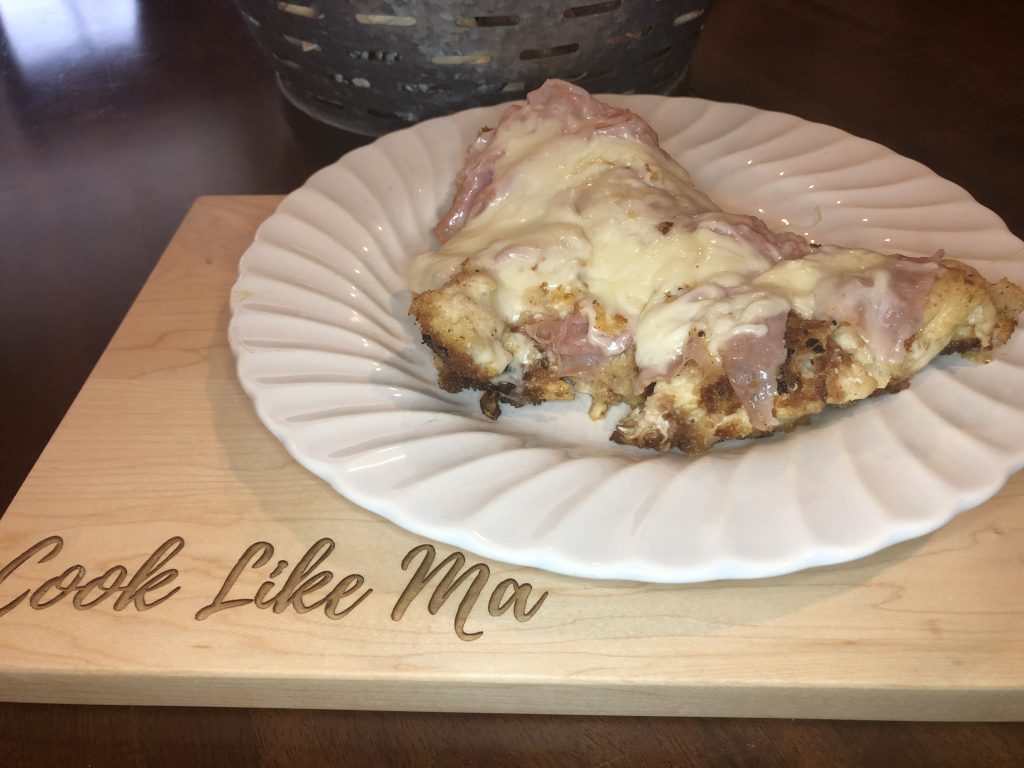 Years ago there was a restaurant in Beach, ND called Mary's Corner. It was named for the owner's mother; Mary Helen Marman. We loved Mary Helen.
It was always a treat to have lunch at Mary's Corner. My standing order was Chicken Monterey.
This week I thought I'd come up with my own version of a longtime favorite. I was pleased with the results.

Here's what you'll need.
2 large boneless, skinless chicken breasts
2 eggs whipped together with milk
1 cup panko bread crumbs
1 teaspoon Cajun seasoning ( I use Slap Yo Mama brand)
thin slice deli ham
4 slices provolone cheese
shredded mozzarella cheese
1/4 cup olive oil
Split chicken breasts in half lengthwise. Using the ridged side of a meat mallet, tenderize each breast. Pat each breast dry with a paper towel. Heat oil in a large skillet. Dip each breast in the egg and milk mixture, letting excess egg drip off. Roll in a mixture of Cajun seasoned panko to coat the breasts. Return to egg mixture and repeat dipping in panko. Place coated breasts in hot oil, reduce heat to medium high and brown on both sides. When crisp on both sides, reduce heat to medium low. Top each breast with several slices of ham, provolone and desired amount of mozzarella. Cover and cook until chicken is cooked through. Delicious!
Serves 4