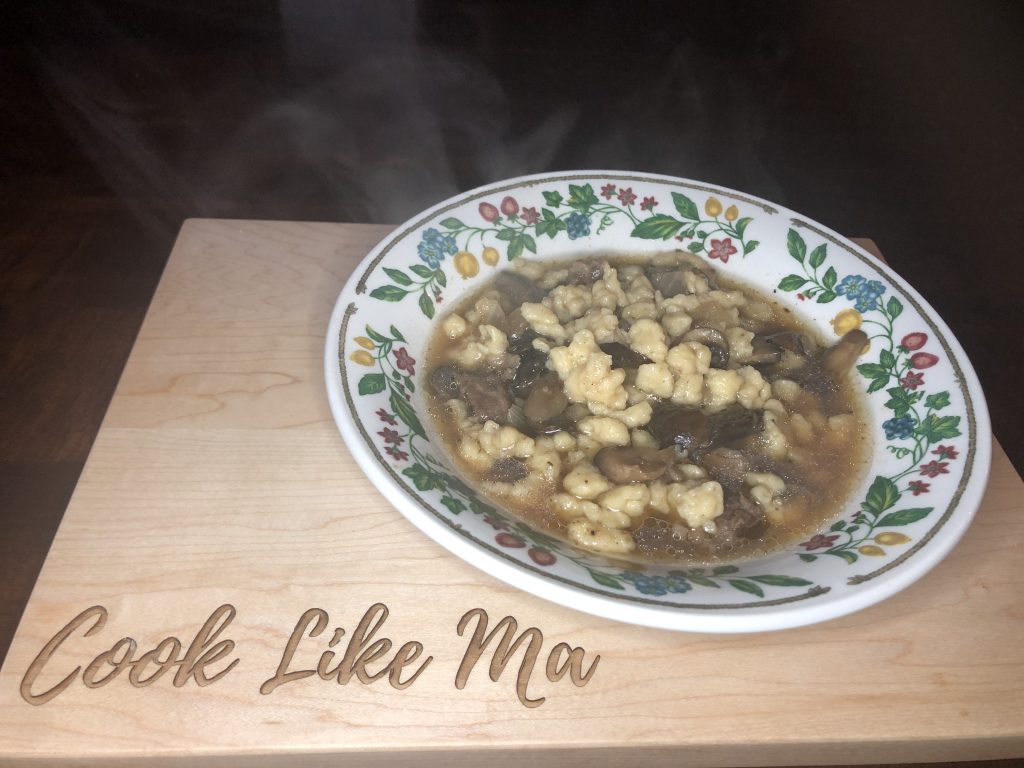 If you follow Ma at all, you know I'm going to make soup with leftover meat.
We had one leftover slice of yesterday's prime rib – so today it's Prime Rib Soup. Yum.
Spray the bottom of a soup kettle with olive oil. Sauté 1/2 white onion chopped and about a dozen baby's Bella mushrooms chopped.
Cut leftover prime rib into tiny pieces and add to mushrooms and onions.
Stir in any left over Au Jus and more beef broth as needed. Simmer. Season with sea salt, coarse ground pepper and Smokey paprika.
Spaetzle
Large soup kettle of rapidly boiling water
1 1/2 cup flour
1 teaspoon sea salt
3/4 teaspoons nutmeg
3 eggs whipped
3/8 cup milk
Mix dry ingredients and set aside. In a medium mixing bowl whip the eggs. To the egg gradually mix in milk and flour mixture alternately. Mix until smooth. Place spaetzle maker over the bowling water. Spoon dough into Spaetzle maker cylinder and slide back and forth over slotted base into water. Spaetzle is done when it floats to the top. Scoop out of water with a slotted or wire mesh spoon. Set aside.
Let soup cool so that excess fat settles on top. Scoop away fat and reheat soup. Stir in Spaetzle when ready to serve.