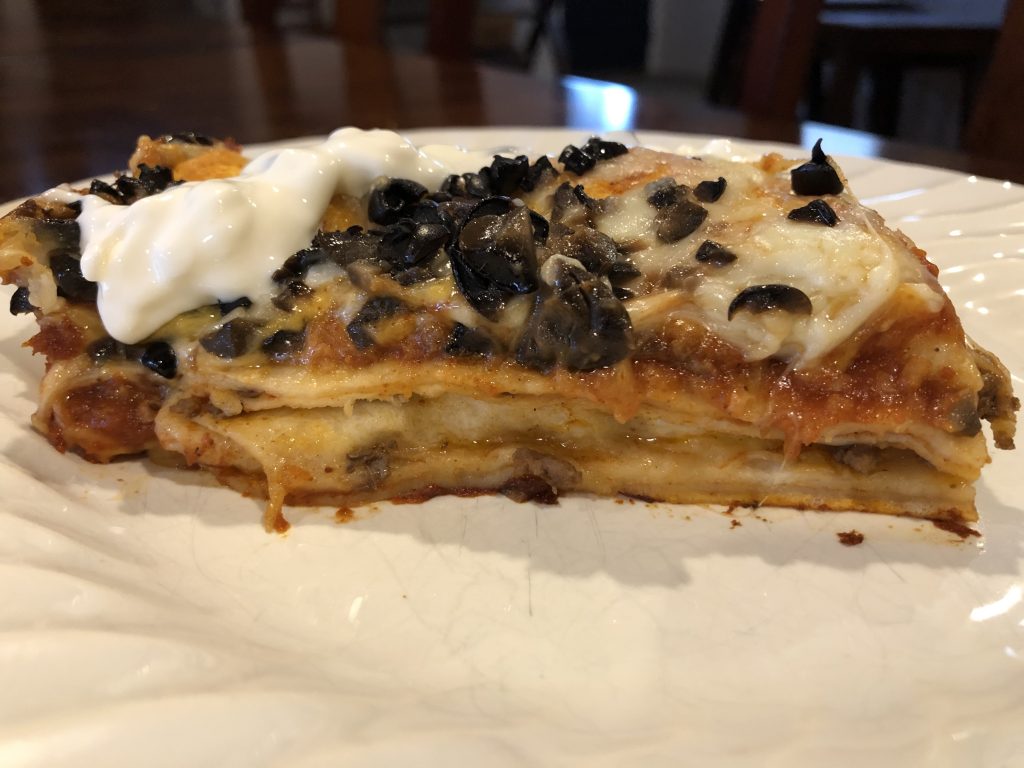 My Mother Bonnie Bowden made lots of big pans of enchiladas when we were kids. It's a simple and quick way to make a familiar dish.
This is what you'll need.
1 pound lean ground beef
1/2 cup chopped white onion
1/2 cup chopped mini bell peppers
1 finely cut up Ancho pepper with seeds and stem removed
1 can black olives drained and chopped
spicy sea salt to taste
1 small can tomato sauce and equal amount of water
1 package enchilada sauce seasoning mix
6 large flour tortillas
1 cup shredded Mexican blend cheese
1 cup shredded mozzarella cheese
sour cream
Brown beef, onions, peppers and ancho chili. Drain off excess fat. Stir in half of olives. Season to taste with spicy sea salt. Remove from heat when completely cooked.
Pour tomato sauce and water into a large pie tin. Season with enchilada seasoning mix and stir well.
Spray an 9×13 baking pan with non-stick spray. Stack tortillas in the microwave and heat for about 40 seconds. This will make them pliable and easy to roll.
One tortilla at a time, dip in the tomato sauce and coat on both sides. Put first tortilla in pan and spoon meat mixture across center. Roll the meat filled tortilla and place seam side down at end of pan. Repeat with remaining tortillas and meat to fill pan with enchiladas.
Stir any extra meat into leftover tomato sauce and pour over entire dish. Top with cheeses and remaining olives.
Bake uncovered in a preheated 350 degree oven for 1/2 hour. Yum!!
Let rest for 5 minutes before serving.
Dress with sour cream on the side.
Yield 6 large enchiladas