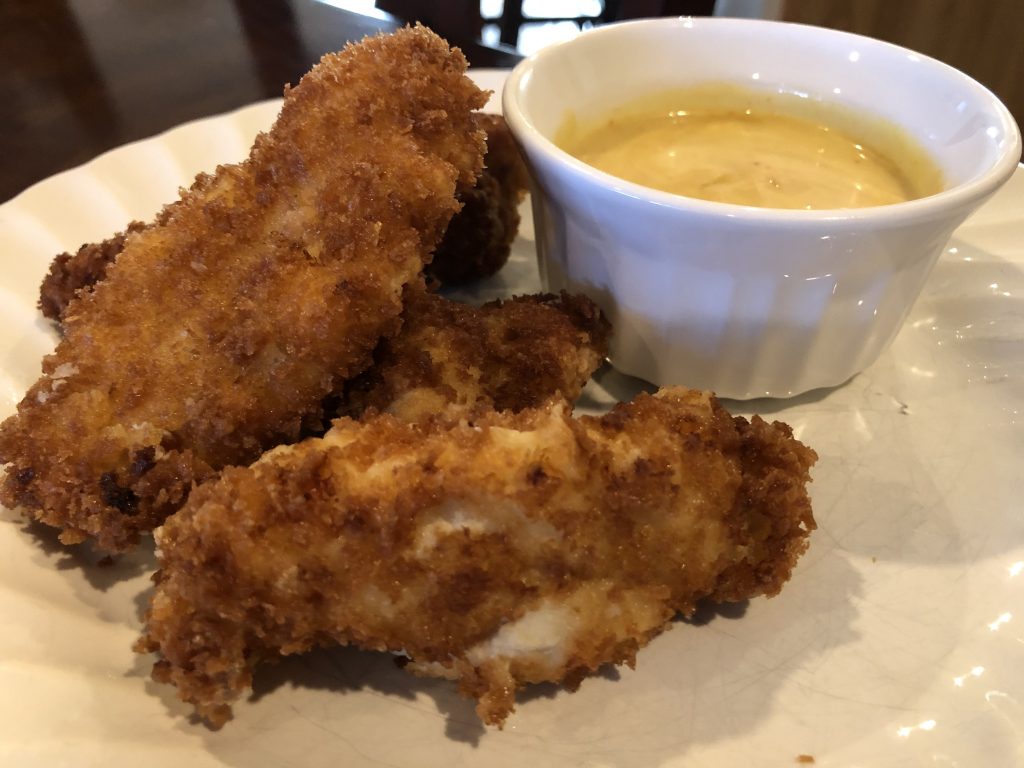 I admit I watched my son Val make these Chicken Tenders last week. I have to give him credit for the method.
He served them with honey mustard for dipping. Very tasty!
Today I decided to try the chicken. I also did a homemade version of honey- mustard dipping sauce.
Here's what you'll need for the sauce.
1 cup mayonnaise
1 tablespoon yellow mustard
2 tablespoons djon mustard
6 tablespoons honey
1/4 teaspoon Smokey Paprika
1/4 cup lemon juice (optional)
Mix all ingredients together until completely mixed and smooth. Refrigerate until serving.
To make the Chicken you'll need.
10 to 12 boneless, skinless chicken tenders
1/2 cup milk
2 eggs whipped with 2 tablespoons milk
1 1/2 cups flour seasoned with a liberal amount of spicy sea salt
1 1/2 cups Panko bread crumbs.
Canola oil


Pat check dry with paper towel. Set aside. Put milk, egg mixture, flour and panko in 4 separate bowls.
Heat about 2 inches of oil in a deep cast iron skillet. When a pinch of flour sizzles when dropped into oil it's ready to fry chicken.
Dip one at a time, chicken tenders first in milk, then in egg, then flour, egg again and finally in panko. Drop coated chicken into oil. Cook until well browned. Turn at least once to brown on both sides. Transfer to paper towel-lined cookie sheet. Check to make sure chicken is completely cooked. Chicken can be kept warm and crisp in a pre-heated 200 degree oven.
Serve hot with mustard sauce on the side.
TIPS:
Val used Italian seasoned panko. I used plain. Both were equally good.
If you want to use a deep fryer set the heat to 360 degrees.