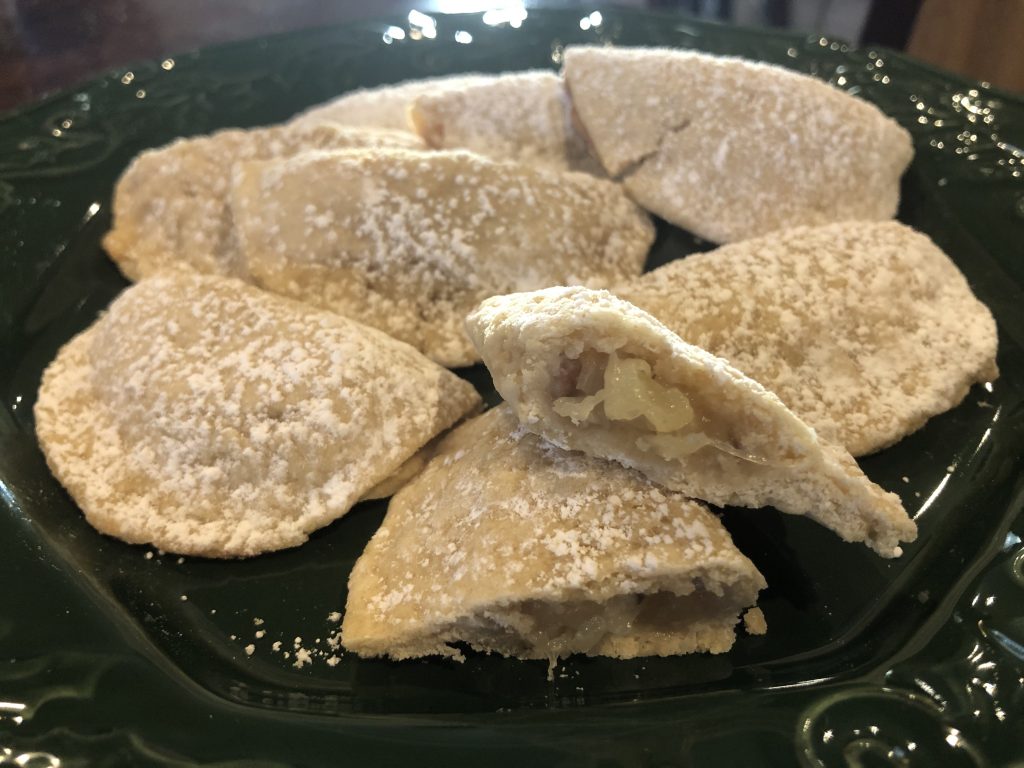 My beloved Mother-in-Law Lucille (Tillie) Craigo always made Pineapple Filled Cookies at Christmas time. Ironically, Taste Tester Tom said they had been One of his childhood favorites as well.

I used Tillie's basic recipe and added a couple of changes and additions of my own.
Here's what you'll need.
1 15oz can crushed pineapple
1/4 cup sugar
2 tablespoons cornstarch
1/2 teaspoon grated lemon peel
1 tablespoons real butter
1/4 chopped pecans
1/4 cup Crisco
1/4 cup brown sugar packed
1 egg
1 teaspoon vanilla
2 cups flour
1 teaspoon baking powder
1/4 teaspoon salt
3 tablespoons milk
Place pineapple,sugar, cornstarch, grated lemon rind, butter and pecans in a sauce pan. Cook on medium heat stirring occasionally until mixture thickens. Cool completely.
Cream together Crisco and brown sugar. Beat in egg and vanilla. Gradually add flour, baking soda and salt. Add milk to make pliable dough.
Wrap dough in waxed paper and refrigerate for at least an hour.
Place a portion of chilled dough on a floured surface and roll out very thin. Sprinkle with flour as you roll. Cut into 3 inch circles. Place a little of the pineapple filling in the middle of the circle. Fold in half and pinch edges shut. Spray a cookie sheet with nonstick spray. Place 12 cookies on the sheet. Bake in a preheated 350 degree oven in center rack for 8 minutes. Cool on a wire rack and dust cookies with sifted powdered sugar.
Yields 3 doz cookies.
Taste Tester Tom says Winner Winner!!
TIP:
The easiest way to fold and seal the cookie is to use a dumpling maker as pictured below.