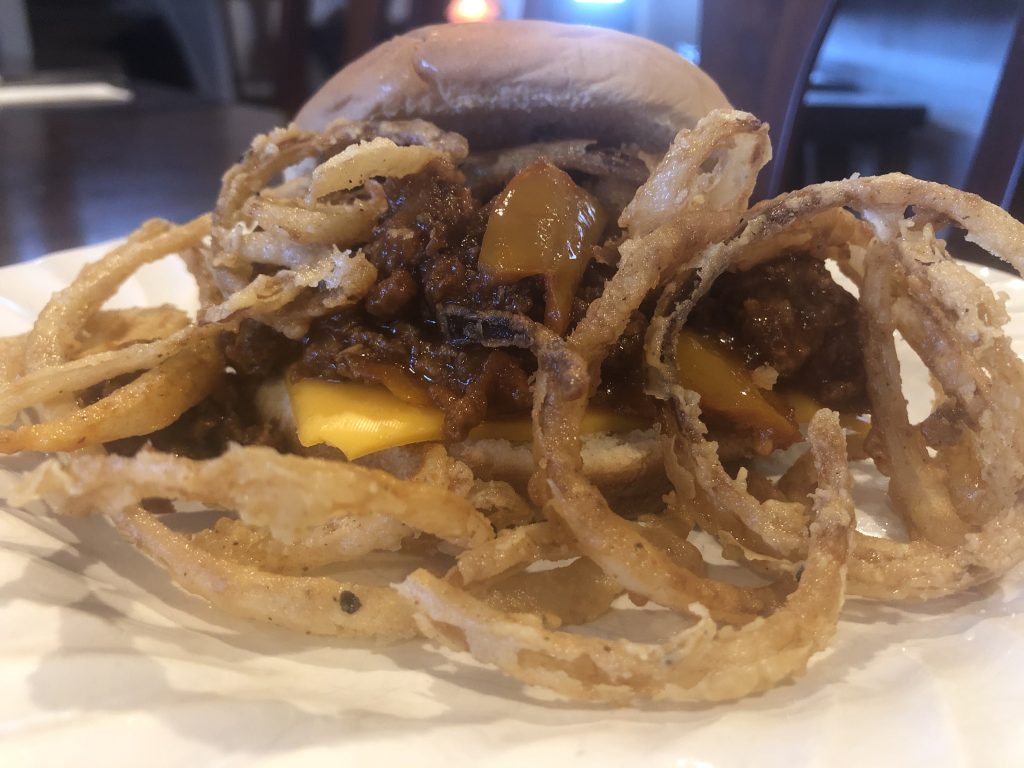 If you grew up in the 50's or 60's it's likely your mom served up Sloppy Joes from a can.
We loved the spicy beef sandwiches.
Now, I've made homemade Sloppy Joe filling and taken it bit further and dressed it with sharp cheddar cheese slices and homemade onion straws.
Taste Tester Tom says; Winner Winner!
Here's what you'll need.
Soppy Joe Filling
Olive oil
1 1/4 pounds lean ground beef
1/2 cup finely chopped mini red and yellow peppers
1 cup finely chopped red onion
2 tablespoons chopped garlic
1/2 teaspoon spicy sea salt
1/2 cup ketchup
2 cups Tomato Sauce
1 tablespoon Worcestershire Sauce
1 tablespoon balsamic vinegar
1 1/2 tablespoons brown sugar
dash of ground cloves and Cayenne pepper
1/2 teaspoon ground thyme
1/4 teaspoon ground black pepper
1/4 teaspoon smokey paprika
Coat a 5 quart Dutch Oven with olive oil and heat. Crumble ground beef into hot oven and top with chopped vegetables and garlic. Turn heat to medium high, cover and brown. Use a paper towel to blot up excess fat. Add remaining ingredient, mix well and let simmer until thickened.
Onion Straws
1 large white onion peeled and thinly sliced
sour milk to cover onion slices
1 cup flour
spicy sea salt, ground black pepper, cayenne pepper, smoked paprika
canola oil
Peel and thinly slice onion and place in a bowl. Cover with sour milk. Let rest for at least an hour.
In a separate bowl, mix flour and seasoning.
Heat about a 1/2 inch of canola oil in a small cast iron skillet until a bit of flour dropped in oil sizzles.
Turn heat to medium to keep oil hot but not smoking. Working in small batches, use tongs to pick up onions from milk and shake off excess milk. Drop into flour and stir to coat. Drop into hot oil and fry until golden brown. Remove to paper towel lined plate and dust with salt. Repeat until all onions are fried.
Build Your Sandwich
Toast hamburger buns. Place a slice of sharp cheddar cheese on toasted bun, top with hot Sloppy Joe mixture. Add onion straws and top with bun top. Serve hot.
Yields 4 sandwiches.
Remember it's called "Sloppy" Joe so plan on eating it with a knife and fork.