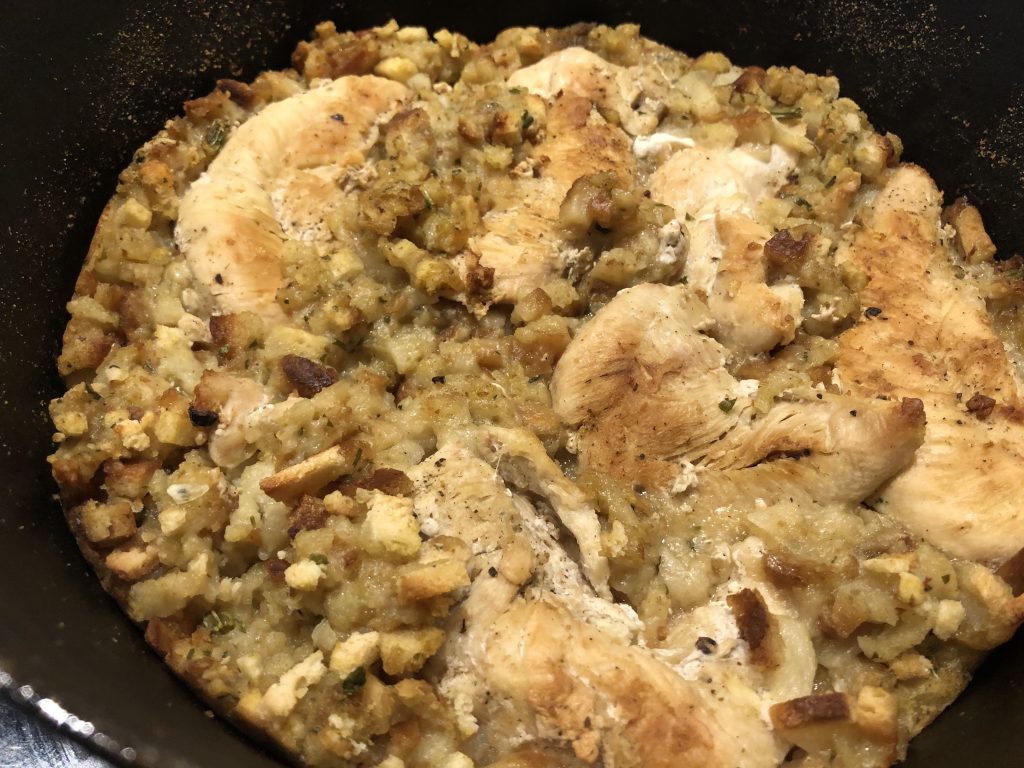 My mother, Bonnie Bowden used to make big delicious pans of chicken and cornbread dressing.
Mother's dressing was the best ever, and I've never been able to duplicate it.
I came up with this quick and easy way to make a pretty tasty substitute.
Here's what you'll need.
6-8 boneless, skinless, chicken tenders
salt, pepper and poultry seasoning
Sesame oil
2 boxes instant cornbread stuffing mix
2 cubes real butter
Spray a cast iron skillet with sesame oil and heat. Place chicken into hot pan. Season both sides of chicken with salt, pepper and poultry seasoning. Continue to spray with sesame oil as you brown the chicken.
Spray a 5 quart Dutch Oven with nonstick spray. Bring water and butter (as per stuffing directions) to a boil in the Dutch Oven. Stir in stuffing mix. Add an additional cup of water to make the mix a little more moist. Arrange chicken on top of stuffing, pressing it down a little into the stuffing. Cover and place in a 350 degree oven for 30 minutes. Remove lid and bake for an additional 10-15 minutes.
Simple Gravy:
In a small skillet heat vegetable oil and stir in flour to make a roux. Continue to stir with a whisk while roux begins to brown. Pour in some packaged chicken broth. Continue to stir as gravy thickens. Add water to thin. Season to taste with salt and pepper.
Plate the dressing as a bed for the chicken. Drizzle with gravy.