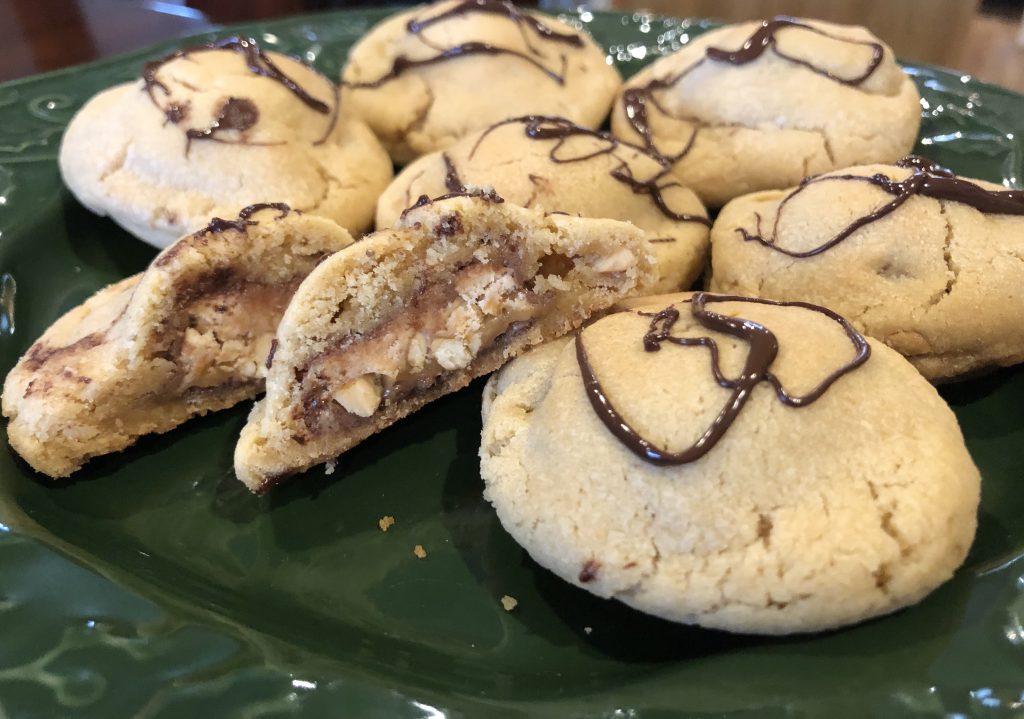 Snicker Cookies have long been a Craigo Clan Christmas Cookie favorite. They are simple to make and delicious to eat.

Here's what you'll need.
1 cup real butter (room temperature)
1 cup granulated sugar
1 cup (packed) brown sugar
1 cup chunky peanut butter
2 eggs ( room temperature)
2 1/2 cups flour
1 1/2 teaspoons baking soda
1 teaspoon baking powder
1/2 teaspoon salt
60 miniature Snicker candies
A few dark chocolate chips
1 teaspoon vegetable oil
Set butter and eggs out on counter while you unwrap the candies. Pre-heat Oven to 375 degrees.
In a stand mixer bowl beat butter and sugars together. Add peanut butter and eggs and continue beating. When well blended turn off mixer and add remaining ingredients except candies, chocolate chips and oil. Mix well.
Using a small spoon, scoop up a bit of dough. Hold the dough in your hand an press one candy into the center. Using both hands roll the dough into a ball keeping the candy inside of the dough. Spray a cookie sheet with nonstick spray. Place cookie balls in 4 rows of 3 on the cookie sheet.
Bake each cookie sheet of cookies on a center rack of the oven for 10 minutes.
Remove from baking sheet onto waxed paper or silicone cooling sheet. Melt chocolate chips and oil in the microwave. Use a wooden dowel to drizzle melted chocolate on top of each cookie.
Yields 5 dozen cookies
TIP:
Bake only 10 minutes. Cookies should be a light blonde color.