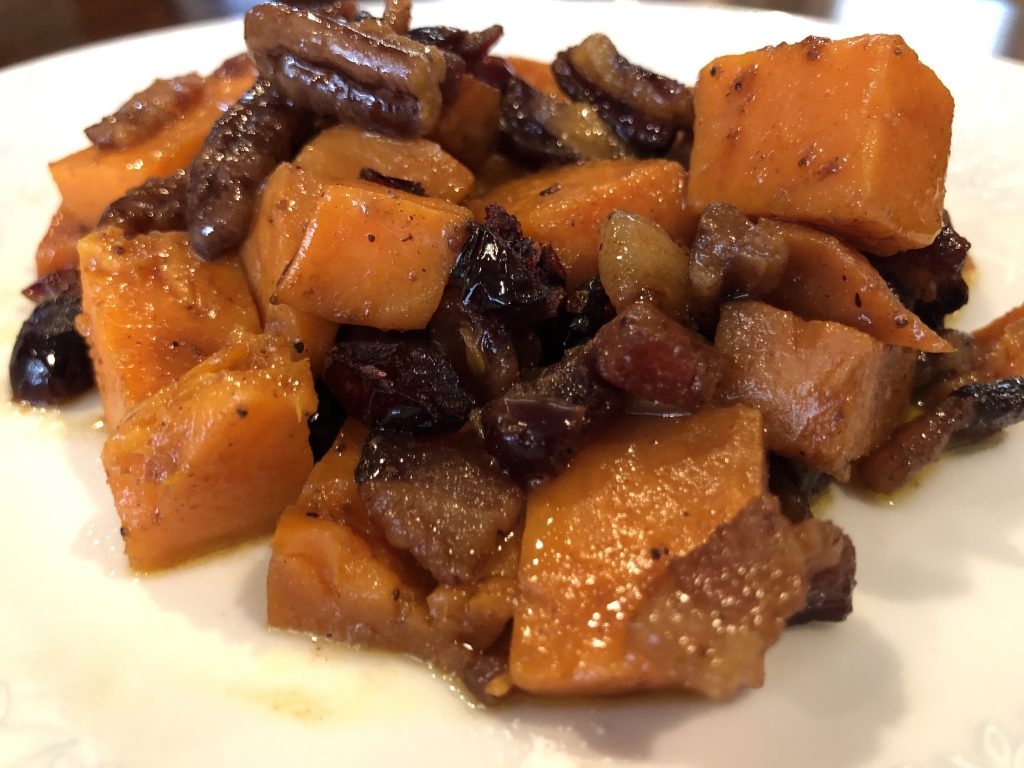 This variation on the typical Thanksgiving Yam is sweet and savory. It has some of the flavor of traditional candied yams without being overly sweet.
Here's what you'll need.
2 large fresh yams
4 pieces of thick cut Smokey Bacon
3 tablespoons brown sugar
1/2 cup sliced raw pecans
1/4 cup finely chopped shallots
nutmeg
salt to taste
1 tablespoon real butter (optional)
1/3 cup dried cranberries
Steam the yams long enough to loosen the skins. Remove and hold under cold water to easily peel away the skin. Cut the yams in cubes and place in a 5 quart baking dish that has been sprayed with none-stick spray.
Cut bacon into small pieces and place in a ziplock bag with brown sugar, pecans and shallots. Shake the bag and coat contents with brown sugar. Add a little olive oil to a sauté pan and sauté mixture from ziplock and sauté until bacon is crispy. Drain off excess fat. Spoon sauté mixture into yams. Add cranberries and gently mix together. Sprinkle with nutmeg and salt to taste.

Cover and bake in a preheated 325 degree oven for 1 hour. Add a tiny amount of real butter before e serving (optional).