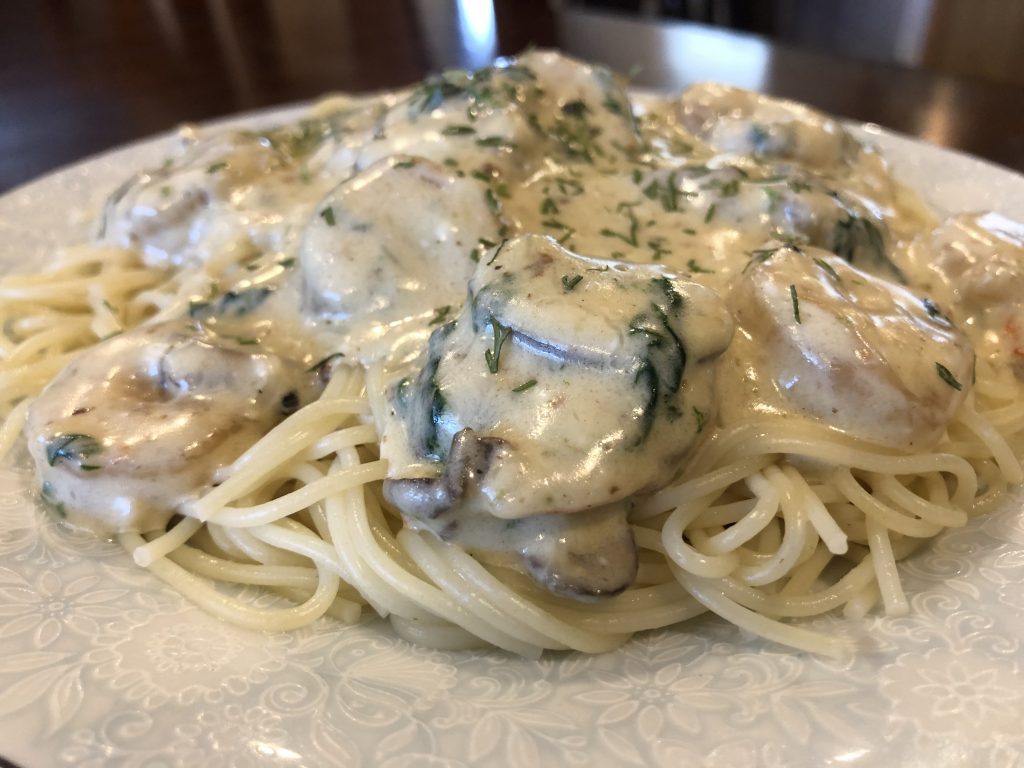 This Shrimp Alfredo has a few more extra ingredients than a traditional sauce.
Here's what you'll need:
1 lb frozen cooked shrimp – tails removed. 30-40 count bag
olive oil to coat skillet
3 thinly sliced Baby Bella mushrooms
1/4 cup cut up fresh basil
1/4 cup cut fresh spinach
2 tablespoons butter
4 oz cream cheese cut in pieces
1/2 cup heavy cream
1/2 cup chicken broth
1 teaspoon chopped garlic
fresh ground sea salt and fresh ground pepper corns to taste
1 cup shredded fresh Parmesan cheese
angel hair pasta prepared according to package directions
Coat a heavy skillet with olive oil. Add shrimp, spinach, basil and and mushrooms. Sauté until all liquid cooks away. Remove from skillet and set aside.
In the same skillet melt butter and add remaining ingredients except Parmesan cheese and pasta.
Whisk and simmer until cream cheese is melted. Stir in shrimp mixture and continue to heat.
Meanwhile prepare pasta
When pasta is done, drain and set aside on serving platter.
Add the Parmesan to the cream/shrimp mixture. Simmer to melt cheese.
Spoon over pasta and garnish with dried dill. Drizzle wit lemon juice as desired.