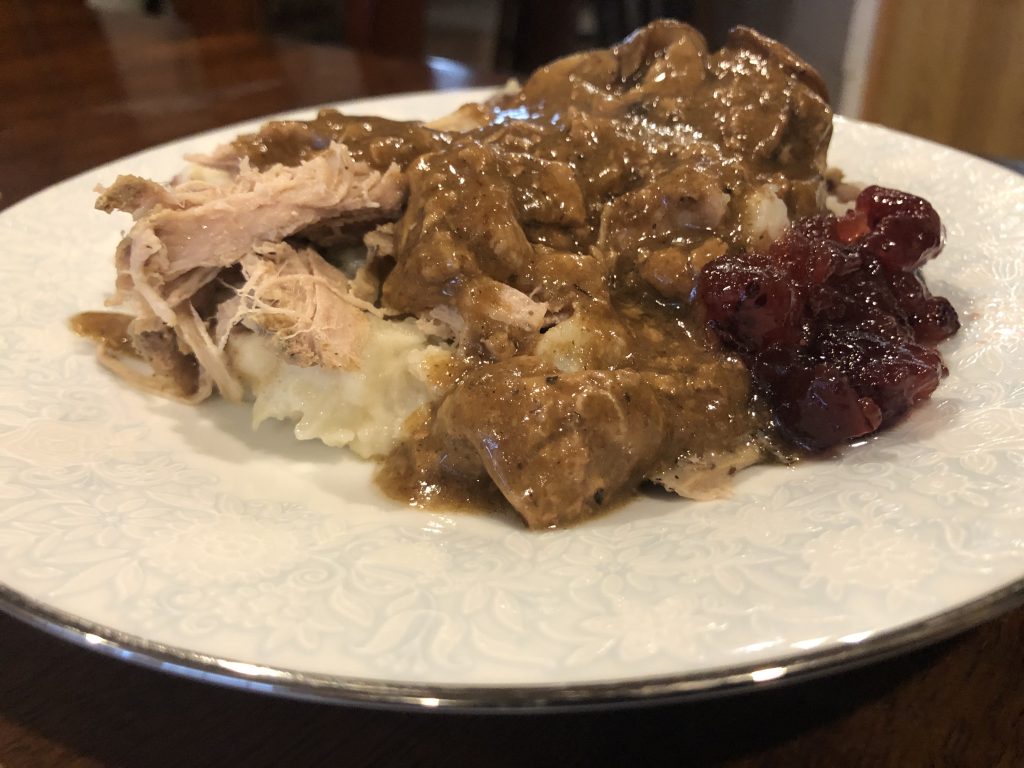 This is a simple recipe using a slow cooker to prepare a pork loin. Finishing it with Smokey Mushroom Gravy makes it rich and flavorful. I served it over mashed red potatoes (skins on) and cranberry sauce on the side.
Here's what you'll need:
Boneless pork loin
Fresh ground black peppercorns
2-3 tablespoons vegetable oil
4 tablespoons flour
water
2 Baby Bella mushrooms thinly sliced
1/4 teaspoon liquid smoke
salt and pepper to taste
4 medium red potatoes
2 tablespoons real butter
heavy cream

Heavily coat pork loin on all sides with ground pepper corns. Put in slow cooker and cook on high for 2 hours. Reduce to low setting and continue to cook for several more hours until tender.
Gravy
In a small frying pan heat vegetable oil and whisk in flour. Heat until it begins a to brown. Stir in drippings from pork loin. Be careful it will steam up. Pour in some water to thin and reduce heat. It will thicken while it simmers. Add the mushroom slices and continue to simmer. Add liquid smoke and salt and pepper to taste.
Potatoes
Boil the potatoes with skins on. Do not peel. When tender, mash with butter. Start adding cream a little at a time, continue mashing and adding cream until you have the consistency you like. Too much cream will result in runny potatoes so be careful when adding. Salt and pepper to taste.
Serve potatoes with sliced pork on top and topped with gravy. Cranberry sauce on the side makes a great garnish to this dish.