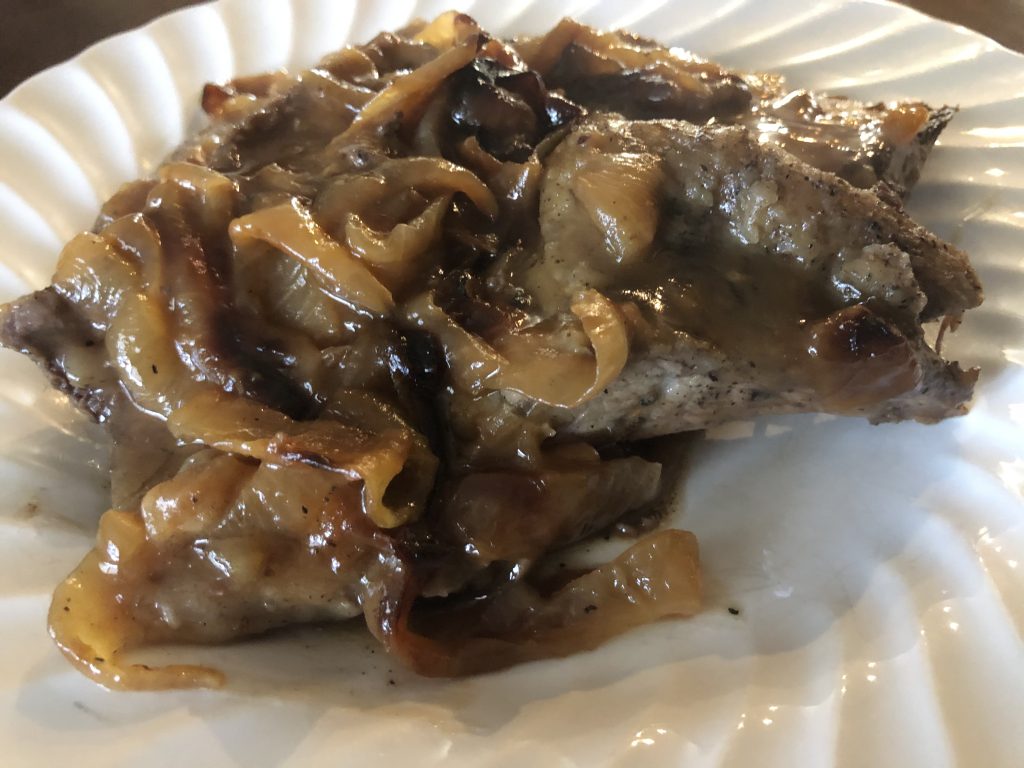 This Peppered Rump Roast With Smokey Onion Gravy is savory and tender. It's the perfect family dinner or company coming dish.
Prepare a rump roast by poking holes in it with a large fork. Drizzle vinegar over the meat. Liberally coat all sides of the roast with finely ground black pepper. Place roast fat side up in a slow cooker. Seal the lid and cook on high for 2 hours. After 2 hours turn temperature to low and continue to cook for 6 hours.
In a large sauté pan heat 1 tablespoon olive oil and 2 tablespoons real butter. Thinly slice 1 large white onion and add to pan. Stir to coat onion with butter and oil. Turn heat down, cover and cook until onions are tender and brown. Stir occasionally. This takes several hours. When starting to brown add 2 big spoons of roast drippings. Continue to cook down to a near caramelized state.

After 8 hours total in the slow cooker, remove roast and thinly slice the meat. Drain juices from the cooker into a glass measuring cup. Return sliced meat to cooker.

Stir 1/4 cup flour into onions and begin heating and stirring to coat onions. Once hot, pour in beef juices. Stir as it thickens. Add water to thin to desired consistency. Season with 1 teaspoon spicy sea salt and 1/2 teaspoon liquid smoke.
Pour onion gravy over the meat. Seal lid on slow cooker and set on warm until you are ready to serve.
On the Side
I steamed together tiny potatoes and finely chopped green cabbage. When tender, season with real butter, salt and pepper and dried basil.