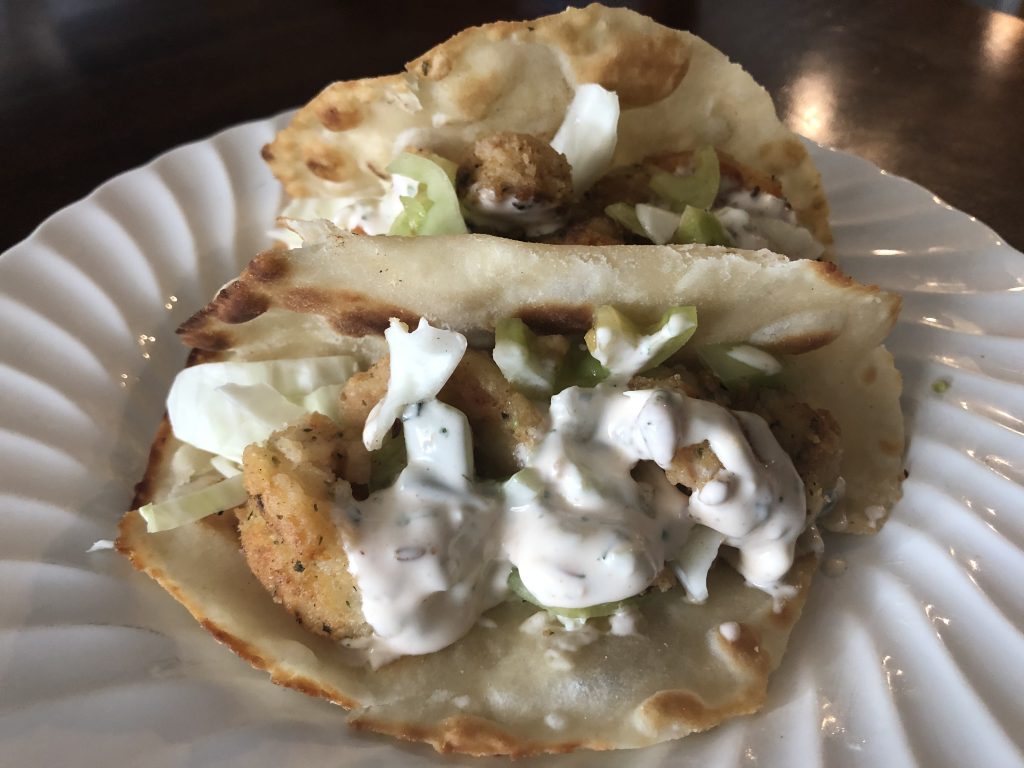 HOMEMADE FLOUR TORTILLAS
Measure 4 cups of flour into a large bowl. Add 2 teaspoons baking powder, 1 teaspoon salt and 2 tablespoons vegetable shortening. Wearing disposable gloves start working the shortening into the flour with your hands. Work it until it resembles cornmeal. Add 1 1/2 cups water and continue working the dough and kneading it until smooth.
Shape the dough into a ball and place on a floured surface. Separate the dough into 24 equal pieces. Shape each piece into a ball. Roll each ball into a 6 to 7 inch circle. Set aside divided by wax paper while you prepare your fillings.
FILLINGS
Finely chop fresh raw green or red cabbage. Set aside. Dice green tomatoes. Set aside. Shred some Monterey Jack cheese and set aside.

SHRIMP
Allowing for 3 shrimp per taco, clean and peel raw jumbo shrimp. Using a small sharp knife butterfly each shrimp. Pat them dry with a paper towel.
In a medium mixing bowl combine 1 cup flour, 1 teaspoon each spicy sea salt, cumin seeds and dried cilantro.
Heat 4 tablespoons olive oil in a large sauté pan.
Dredge shrimp in the flour mixture and shake off excess flour. Cook shrimp in hot oil until crispy. Set aside on a paper towel lined plate.

SAUCE
Combine in a small mixing bowl 1 coarsely chopped green tomato or Tomatillo from which the skins have been removed and 1 coarsely chopped Jalapeño with seeds and veins removed.
Stir in 1 cup real mayonnaise, 1/2 cup sour cream, 2 tablespoons lime juice, 1/2 teaspoon grated garlic, 1/2 teaspoon ground cumin and 1/4 teaspoon spicy sea salt and 1 teaspoon Sriracha Hot Sauce.
BUILD THE TACO
Heat 2-3 tablespoons of olive oil in a large sauté pan. Cook tortillas one at a time browning on both sides. Once cooked fold over with a paper towel.
When taco shells are ready to fill, start by spooning a little sauce into the shell. Add shredded jack cheese, shredded cabbage, tomatoes, shrimp and top with more sauce. Squeeze a little lime juice over the top.
TIPS:
If you don't have green tomatoes substitute not quite ripe red tomatoes or peeled Tomatillos.
I found that using taco stands are very helpful when making your shells. They work a lot better than the folding over method. I found them inexpensively on Amazon.

Another helpful item is a tortilla press. Use the press to shape the tortilla and then roll it out thin on a floured surface before frying.

This is the one I got. Again, on Amazon. I use it to start pie crust and flatbread too.
If you'd rather not bread the shrimp, that's ok too. Just sprinkle the shrimp with the seasonings, spray the sauté pan with non-stick spray and eliminate the olive oil. Cook until browned on both sides.