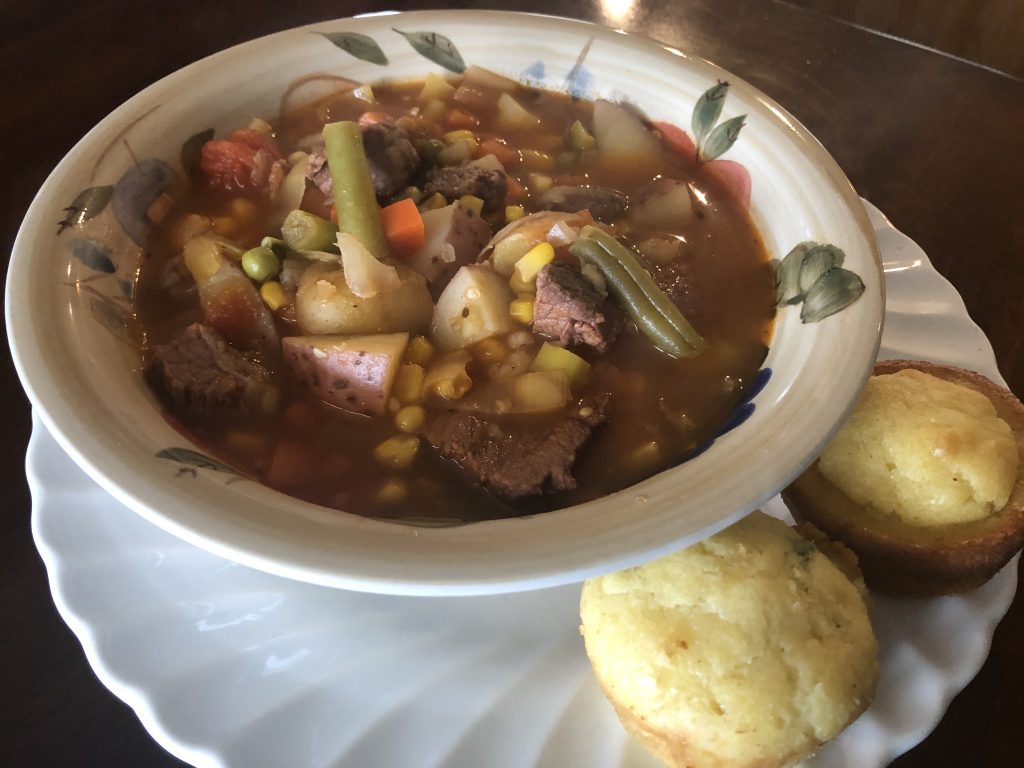 This hearty Vegetable Beef Soup was a family favorite that my mother (GranGran) used to make. She always planted and harvested a huge garden, so there was always a bounty of vegetables. We had the soup when vegetables were fresh, but also in the winter when she used the vegetables she had canned in summer.
I used to watch my mother cook and took note of how she did things. This soup is close to the way she made it but I have added a few touches of my own.
There are no rules to the s as mount of meat or vegetables you use, so no need to measure.
Combine in a large soup kettle stew meat or leftover beef roast cut into bite size pieces, one whole chopped leek or white onion, as many diced potatoes (skins on) as you like. I like a lot of potatoes in the soup. Cover with water and cook on medium heat until tender.
Add 6-8 ripe peeled tomatoes, frozen corn, frozen mixed vegetables and any other vegetables you like. If you have leftover vegetables toss them in. I like green beans in the soup.
Add 1 15 ounce can of tomato sauce and 1 cup of beef broth.
Season to taste with spicy sea salt, dehydrated onion, chili powder and chopped garlic.
Continue to simmer until tomatoes cook and separate and soup thickens a bit.

Serve piping hot with corn bread or sweet Jalapeño Corn Muffins. Recipes for both can be found on previous posts at www.cooklikema.com.
Tips:
I have made this soup with stew meat but I prefer to use leftover roast.
if you have leftover gravy or roast drippings use those as well.
I often use refrigerated chopped garlic in place of fresh chopped garlic. It is handy and keeps very well stored in the refrigerator.