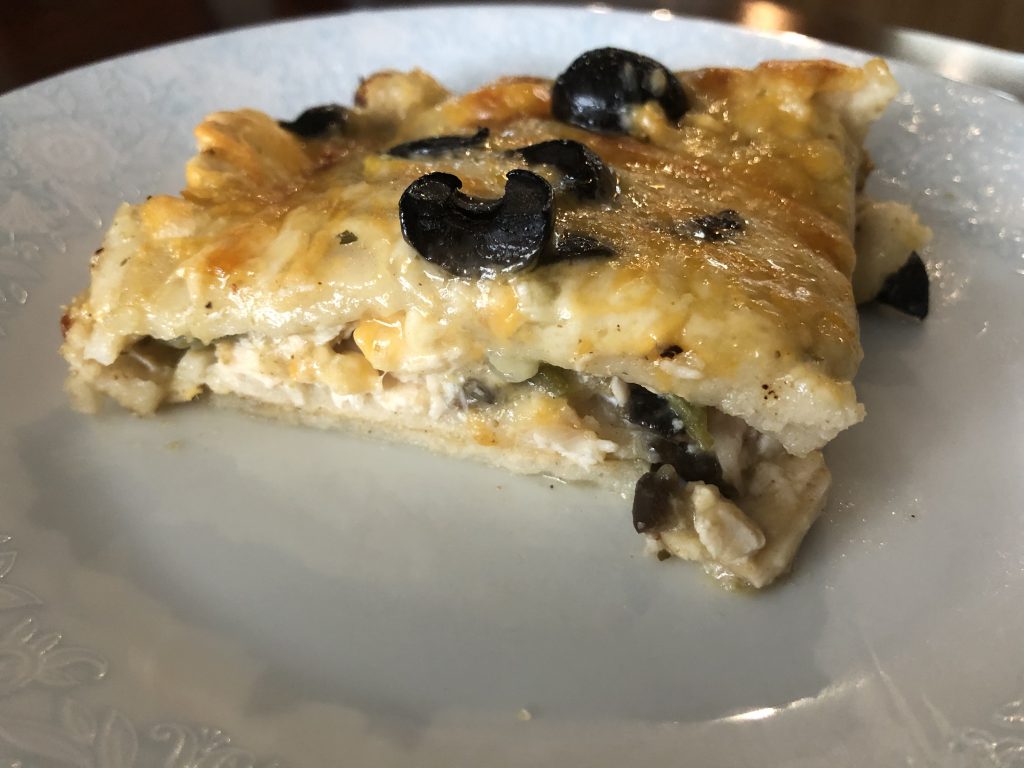 This Chicken Tamale Pie is full of flavor and the texture of the corn tortillas is just right to bring home that tamale taste.
Homemade Corn Tortillas
Add 1 1/2 cup very warm water to 2 cups masa. Mix well and then start kneading the dough until it has a smooth texture. Use a method of folding dough over with your fingers and pushing it back with your palms.
When the dough is smooth, pinch off 8 pieces of dough and roll into balls. Place each ball one at a time between sheets of waxed paper and press in a tortilla press or roll out 7 1/2 inch round circles on a floured surface. Set aside.
Filling
In a large bowl combine 2 large cooked and shredded skinless, boneless chicken breasts, 2 chopped green onions, 1 small can of mild Ortega green chili's chopped, the liquid from the chili's, 1 can black olives sliced (reserve some for topping), a little jarred green enchilada sauce to moisten, spicy sea salt to taste. Mix well. Set aside.
Spray a 9x11 inch baking pan with non-stick spray. Pour 1/2 of the remaining enchilada sauce into the pan. Line the pan with 4 of the tortillas. Spoon the chicken filling over the tortillas. Cover with remaining tortillas. Pour remainder of enchilada sauce evenly over the top. Liberally cover entire dish with shredded Mexican Blend Cheese. Top with sliced black olives.
Bake in a preheated-heated 400 degree oven for 30 minutes. Remove from oven cool for 10 minutes Before cutting in squares.
TIPS:
Masa can usually be found in the flour isle.
I used the small can of whole Ortega mild green chili's. Usually there are 2 chili's to a can. I cut the chili lengthwise and then chop into small pieces.
I used one 14 ounce jar of Organic brand green enchilada sauce.